Modular Homes VA Blog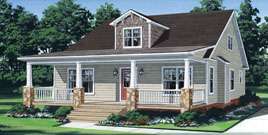 Modular Homes are strong, affordable and elegant prefabricated homes. Modular homes are easily available within everyone's budget, and they can be customized by the manufacturer. In recent years, modular homes have become more and more popular over traditionally built homes.

There are many reasons for the growing popularity of modular homes. The construction process is considerably shorter than stick built homes. This makes buying and building modular homes a great option for home builders and a home owner.

The modules are built indoors. Therefore, the construction process is never hindered by weather. However, this is also a greener way to build a home. The specs are exact and, with no weather issues, construction waste is less.

Also, the cost of building and maintaining a modular home is up to 30% less than traditional homes, which makes these houses more affordable.

If you are interested in building a new home, and would like to talk about the benefits of modular construction in Virginia, contact Tidewater Custom Modular Homes.
---
In Virginia, the housing market is in a slum. Because of this, many homeowners are hesitant to put their houses on the market for fear they won't get the asking price or that it will sit on the market too long. What about building your new home?

There are many homeowners out there who think that building a home will take too long, or be too stressful. However, building a modular home takes those two issues out of the equation.

When building a modular home, from the decision and design stage to actually moving into your new modular home, the process can take as little as 10-12 weeks. That is much sooner than it would take to sell your house.

Once you decide on a home style and custom floor plan along with your add-ons (hard wood floors, deck, etc) we will present to you how much this modular home will cost you. Once you have that proposal, there will be no change in the cost of building your home. What you see in what it costs.

When building a stick-built home, the cost of construction is constantly changing. This is one of the main reason why building a home can be so stressful.

Contact Tidewater Custom Modular Homes if building a new home seems like the answer you have been looking for.
---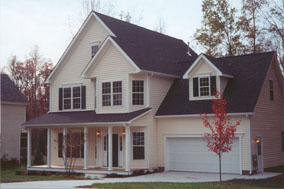 Building a modular home is faster, and more efficient than building a home the stick built way. The homes are beautiful, strong and efficient. There has never been a better time to build yourself a new home. And Tidewater Custom Modular Homes if offering you a few more incentives as well.

Military discount
Any past or present member of the United States Military gets a $2,000 credit towards options or upgrades as a thank you for serving our country. Present your military ID when you order your new Modular Home.

Disaster Relief
This year has been rough on our service area with storms, tornadoes, and wildfires. Families rebuilding due to natural disasters or fires will receive a $2,000 rebate when their Modular Home is completed and funds are received. Proof of loss may be required to qualify.

Free Upgrades!!
Are you ready for a new home from TC Modular Homes? How ready are you? The faster you are; the more you save.
Order a home in the next 30 days* and get a $2,000 credit towards options or upgrades.
Order a home between 45 and 90 days* and get a $1,500 credit towards options or upgrades.
Order a home between 90 and 120 days* and get a $1,000 credit towards options or upgrades.
Contact Tidewater Custom Modular Homes
to get more information on any of these offers.
---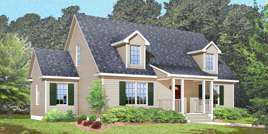 There are many homeowners who are contemplating downsizing their homes. There are many reasons for downsizing, the most common being the children have moved out. Perhaps you are looking to stay in the same town or remain near the community you have grown to love over the years, or perhaps you want to move to the waterfront.

Building a modular home may be a great choice for you. Thereare many styles and floor plans that will fit your needs. And building a modular home is cost effective, efficient. Also, downsizing can save you tax dollars.

A ranch style home, our favorite being the Austin, single story living at its best! This quaint three bedroom, two bath home offers a large master suite complete with a walk-in closet and a master bath featuring a garden tub. The foyer opens into a spacious living room/dining room combo, providing an abundance of space for entertaining or simply relaxing.

If it is the waterfront that draws you, we have vacation home floor plans to suit your needs as well. The Southport is one of our most popular vacation home floor plans. This quaint Cape Cod home with its charming front elevation features almost an entire wall of glass, bathing the great room in the front of the home in natural light, thanks to a towering vaulted ceiling. The large master suite is to the left rear of the home and offers privacy while an extremely open great room, dining room and kitchen area on the opposite side offers a gathering place for family and friends.

Then of course, we have the traditional cape. The Kingston, has a combination breakfast nook/kitchen design makes this area of The Kingston the gathering spot of the home. A bathroom, two bedrooms and an expansive living room complete the first floor. Two bedrooms and the home's second bath complete the suggested second floor.

Feel free to ask us about any of these style homes or any other styles that we offer. And remember, at Tidewater Custom Modular Homes, we can create the home you are looking for within the price parameters you require.
---
Many homebuyers assume that the primary advantage of modular homes is lower home prices. However, that is the third most important reason for building a modular home. Faster construction time is the second, and superior quality is the first.


The construction applications that strengthen a modular home include:
The window and door casings are reinforced with metal splines in the corners
Drywall is bonded to the wall studs and the ceiling joists with super adhesive
Larger sheets of drywall are used on the walls and ceilings
The first-story ceiling and second-story floor systems are separate on two-story homes
Floor sheathing is both glued and nailed
The basement ceiling is flush with the main carrying beam built into the floor system
Double or triple perimeter joists are used at the marriage walls (marriage walls are where wall meet)
The modules are joined together at the marriage wall with bolts in the basement and attic
Corners of the perimeter floor joists are also strapped
Also,
modular construction
has standard practices, such as
sealing air penetrations
around electrical outlets and plumbing pipes. This makes a
modular home more energy efficient
than a typical stick-built home.
---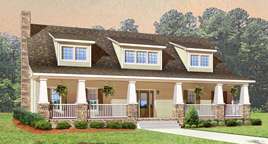 Mortgage rates are still at all time lows and right now they are the lowest they have been in eight months. If you have been contemplating building a new home, now is the time to do it.

Modular homes can be built with many different floor plans for those seeking to build their own home. For the budget conscious land owner modular construction is the perfect solution, and this is the perfect time to build. Low mortgage rates and a way to build a home which allows you to really manage your budget. Modular homes are more accommodating to your budget than traditional stick built homes; there are no hidden fees or unexpected costs. There are no weather delays or material issues. Because the modules are built to specific standards in a factory, there are no additional costs as a result of wrong measurements, bad cuts, or bad weather. Each piece of wood is cut precisely and assembled consistently inside a factory.

As the homeowner, you go into the project knowing what it will cost for the site work, the home construction and assembly process, and the landscaping; without "hidden fees" or rising costs due to unforeseen circumstances, your budget is sound as is your timeline to completion which is significantly less than with a traditionally built home.

If you have always dreamed of building a new home, with rates this low, do not just think about it, now is the time to make your dream come true. Contact Tidewater Custom Modular Homes.
---
Although the concept of modular construction seems relatively new because of the increasing interest, it has been around awhile. The concept of modular construction is confusing for new home buyers mainly because it is confusing trying to discern the information you do come across about modular homes, the modular construction process and modular home manufacturers.


We would like to help clarify these myths and help you make a good educated decision for your personal situation.
Modular homes are built in factories to specifications created by the manufacturer and the state and local building codes. The design can be standard or it can be enhanced by the customer/new home owner.

A General Contractor, such as Tidewater Custom Modular Homes, works with the manufacturer. The General contractor coordinates the construction of the home in the factory and the delivery and assembly of the home on the site.

The general contractor provides and coordinates the site work (foundation), plumbing, electrical, and licensing and permits. This is why they are called the general contractor. Once you select a GC, you don't need to do anything else regarding the construction of the modular home.

Many people think that modular homes are cheap or inexpensive. As compared to the cost per square foot of a stick built home, they are less expensive. However, modular homes are an expensive investment especially depending on how large a home you build. They do, however, generally cost 10-35% less to build than traditional homes. When you are comparing new home construction prices, make sure you are comparing the same type of house i.e square footage, amount of bathrooms, etc.

Modular homes appreciate and gain value the same way traditional homes do. Once a modular home is built, it is near impossible to tell the difference between it and a stick built home.

Modular homes can all be customized. Each modular home manufacturer or contractor has different designs to choose from. Those designs can be further customized. Additionally, you can easily customize the windows, doors, siding, colors etc. Modular homes make it very easy to have a custom home at an affordable price.
---
One of the biggest questions, or deterrents, pertaining to building a new home is the construction timeline. What is the process and how long will it take? With modular homes, are large part of the "decision to build thru moving in" time line is removed. Believe it or not, it generally takes from 60-120 days until you can move in and call your new house a home.

Modular homes are similar to on-site construction or stick built homes in appearance and performance. But one huge advantage of modular construction is the shortened timeline which results in cost savings.

The parts or modules of a modular house are constructed in a climate controlled factory which removes weather delays entirely. This also increases efficiency which allows your home to be built faster which also costs less.

By having a workspace for building the modular home that is separate from the construction site allows for many steps to be done at the same time. In other words while your building site is being prepared; the ground leveled, the foundation poured, your walls and roofs are already being built at the factory.

Contact Tidewater Custom Modular Homes if you want to build a new home, but you don't want to wait for it.
---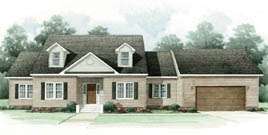 There is better, faster way to build your home addition. Rather than the long process of traditional construction, there is another option: a modular home addition. Regardless of how your existing home was built, you can put an addition on your home with modular construction.

Oftentimes, after finding out the project scope of a home addition many homeowners will get disheartened about the length of time it will take for the addition to be completed. With modular home additions your home renovation will be completed much faster, and you will be enjoying your new space much sooner.

Modular home additions are more economical, with no sudden cost surprises, but they are more energy efficient as well. Modular construction is the answer. Contact Tidewater Custom Modular Homes to discuss the option of a modular addition on your existing home. With the right plan most homes can be expanded modularly. Tidewater is more than happy to work with an existing home owner. We can expand your existing home and deliver to you the space you need.
---
Tidewater Custom Modular Homes would like to build you a custom designed modular home. If you just look at our photo gallery you can see how much customization you can really have.

Option for modular home customization

When building a modular home, the most common customization options are usually the siding, the style and amount of windows and the type of floors. If you are only interested in minor customizations like these, and you don't necessarily need to add or change a floor plan, take a look at the more inexpensive predesigned modular homes in our inventory. Even these modular homes are beautiful and look just like stick-built homes.

Upscale customization options
Customized modular homes means you can add to the home design what you need. Add rooms, add bathrooms, add a sunroom or add a garage; move walls or add windows or fireplace.

Modular homes are most often less expensive than traditionally built homes. No matter what type of home you build, however, as you customize your price will increase. You will save more when building a modular home, so even a customized modular home is less than a customized traditionally built home.
---