The Bedford Traditional Two-Story Style Modular Home Lets You Have A Brand-New Taste of Two-Story Home Living –– Virginia Beach, VA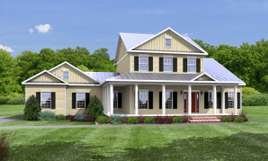 Tidewater Custom Modular Homes offers a wide selection of traditional Two-Story modular floor plans in Virginia Beach, VA. Most of these homes come with a straight set of stairs to the second floor like the one you can see in The Bedford modular floor plan.
If you have a huge lot and been dreaming of an impressive entry to your two-story home, then The Bedford Traditional Two-Story modular home floor plan can be your best bet. A long-extending porch, accented by series of white pillars and framed glass windows, makes the exterior of The Bedford stand out from the rest in the neighborhood. If you enter The Bedford, you will witness just how this floor plan brings a brand-new taste of two-story home living.
The Bedford traditional two-story modular home has a total living area of 2,281 sq. ft. providing ample space for the 3 bedrooms, 2.5 bathrooms, and other parts of the house. It is so large that you can even have an unfinished bonus room on the second level which you can modify for future use. Downstairs, you will have a super spacious great room that opens wide the kitchen and dining area as well as to other areas in the first floor. There is only one bedroom that you can find downstairs, with an adjacent relatively large bathroom that is complete with a walk-in closet and a shower niche. There is one comfort room near the washer and dryer space which provides an easier access for the guests so they will not be going upstairs or enter the room at the ground floor.
To find out more about The Bedford Traditional Two-Story home and what are your options for customization, contact Tidewater Custom Modular Homes.