The Phoenix Cape Cod Modular Homes Modular Floor Plan and The Perks of Choosing It – Newport News, VA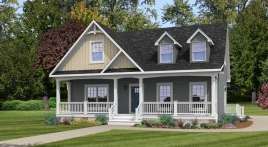 The selection of Cape Cod style modular homes in Newport News, VA continues to expand in order to cater to the varying needs of interested homeowners. A new addition to the available Cape Cod floor plans in Tidewater Custom Modular Homes is The Phoenix which has a total living area of 1,849 sq. ft.
There is more to love about The Phoenix Cape Cod style modular floor plan than just its aesthetically pleasing pitched roofs. At the first level of this floor plan lies a big bedroom that is almost the same size with the capacious living room situated adjacent to it. The other two relatively smaller bedrooms that share a common bathroom are at the suggested second level of The Phoenix. While there is a storage closet at the second level where you can place stuff that is seldom used in your home, there is also a walk-in closet downstairs where you can place the clothes that you often wear as well as other essentials. The washer and dryer space are near the linens and walk-in closet so it will be easier for you when you do the laundry. Another perk of choosing The Phoenix Cape Cod style modular floor plan is that you can have a fully furnished kitchen that extends to the dining area and has a flush bar. If you do not want a second level for your Cape Cod, there is a basement option where you could take advantage of it by turning it into a sizeable and stylish room for sports, leisure, entertainment, or fitness.
To find out more about The Phoenix and other Cape Cod style modular floor plan, contact Tidewater Custom Modular Homes.