The Brookside Cape Cod Modular Home – A Spacious Floor Plan that has Amazing Features to Address You and Your Family's Varying Needs – Virginia Beach, VA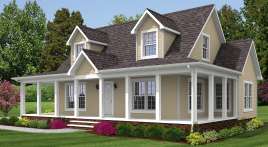 The Cape Cod style modular home has been around in Virginia Beach for years however they have not lost their aesthetic appeal or functional value.The beachfront Cape Cods are the homes our families pack up and flock to for vacations over summer whether in Virginia Beach or The Outer Banks; it's actually one home that has stood the test of time and maintained its value over the years.The Cape Cod modular floor plans are currently one of the most popular styles homeowners choose throughout Tidewater Virginia and the Carolina's. Cape cods are built with so many additional storage spaces,offer room for growing families,in-law quarters and have more amazing features like what you can see in The Brookside Cape Cod style floor plan.
If you prefer having the master bedroom at the first floor of your two-story home, then you may find inspiration from The Brookside Cape Cod style floor plan. This 1,780 sq. ft. Cape Cod has a spacious master bedroom adjacent to an even larger living room. The master bedroom also has easy access to the kitchen and dining area that sit right next to each other. Aside from the flush bar, you can also see a refrigerator space, range space, and minimalist bathroom in the kitchen. Being the largest among the three, the master bedroom also has its own walk-in closet, shower, soaker, and vanities in the relatively large bathroom.
Modular home construction really seeks to cater to not just your specific needs but also to the other members of your family. In fact, if you go upstairs, the first thing you will see is another bathroom that is being shared by the two smaller bedrooms. Although these two bedrooms need to share a common bathroom, each of them have its own walk-in closet and a storage space for linens. You also have an option to add a basement for extra space for a game room or other custom room.
To find out more about the other defining features of The Brookside Cape Cod style floor plan, contact Tidewater Custom Modular Homes.