The Millbrook Ranch Style Modular Home – Find out What to Love About It – Charles City, VA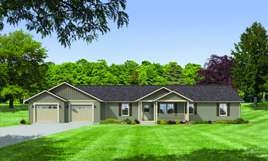 Modular home construction in Charles City, VA continues to improve on its product offerings, providing a wide array of different modular home floor plans as well as a virtually limitless number of options for customization. One of the recent additions is The Millbrook ranch style floor plan.
If you have been dreaming of a home that has 2 or 3 bedrooms, then you might want to take a look at The Millbrook Ranch style modular floor plan. The biggest of the 3 bedrooms is called the owner's room, which is in essence a master bedroom. It has its own relatively large bathroom with a corner bath tub, 2 sinks, a toilet bowl, and a shower. The 2 smaller bedrooms share a bathroom that has its own bath tub, toilet bowl, and sink as well. You can really see how the 1,898 sq. ft. of lot has been maximized in The Millbrook ranch style modular home. This single level modular home has a kitchen space that opens towards a dining area with only a raised eating bar separating them. Aside from the living room that separates the owner room from the two smaller bedrooms, there is an even wider family room that extends to the dining area which can be a perfect place for chat time after meals.
There are yet more features to love about The Millbrook ranch modular home. To find out more about it as well as other modular home floor plans, contact Tidewater Custom Modular Homes.