Modular Homes VA Blog
What is the buying process for a modular home?
You choose your home and options
A contract is signed contingent on financing and a small deposit
Plan revisions are made and new engineered floor plans are drawn
You close on your Construction-Permanent loan
Your basement or crawl space foundation is built
We release your home for production
We set your new home
Finish work of your new home is completed
How complete is the home when it is set?
Depending on the
floor plan
and style, between 75-85% complete.
How long does it take to finish the home after it is set?
About 4-6 weeks.
Will you build my garage and/or porches?
Yes. However, this may be at an additional cost.
What is the difference between a Modular home and a Mobile Home?
Mobile Homes - built to a lax code with generally substandard building products (when compared to modular or site-built homes). Built on a steel frame to hold it together, most have wheels.
Modular Homes
- built generally to the
toughest codes
required in the state, built out of the same type building materials and name brands you would find in site-built homes. There are no steel frames underneath, only approved floor system. There are no wheels of their own, they are transported and then lifted off the transporter and set with a crane.
How much do modular homes cost?
As with stick built construction the
cost of a modular home
will vary depending on what you put in the home and the style of home you choose. Modular homes prices compare favorably with an equivalent site-built home.
Can modular floor plans be customized?
Yes. There are
standard floor plans
of course; however,
floor plans
of
each style home
can be customized, as well as the amenities inside the home.
---
A new construction home loan is not the same as a typical home loan. New construction loans have different requirements and a different set of rules. However, the new construction loans are used for both new construction stick built and new modular construction homes. After learning about these types of loans you will find it is easy to finance and build your dream modular home.


A new construction home loan requires the lender to provide the money to build your new home. Firstly, your mortgage provider requires a detailed accounting on the estimated costs to build the modular home; including how much you are going to spend and what it will look like when it is complete. After these initial questions are answered you begin the credit check and annual earnings process.

There are a few different construction loans out there but the most popular one is a "construction to permanent" loan. Instead first applying for a construction loan and following that up with a typical home loan, a construction to permanent loan is a two-in-one loan which, in most cases, only requires you to pay closing costs once. This loan is a combination of construction loan and permanent financing, and can help you save money and time.

Keep in mind that with new construction loans it is very difficult to lock-in a permanent or fixed mortgage rate. This is because with traditional construction, you usually won't be closing the loan for six months to one year depending on the build time. With modular construction, because the build time is so much shorter, you can more often get a fixed rate, or the fixed rate you close with after construction will be very close to the variable rate you had when you took out the loan.

Of course you will be required to pay monthly interest on the construction loan amount during the modular construction process, but the amount you owe each month will depend on the amount you have used to date. If you are approved for a construction loan of $100,000 but you have only drawn $50,000 then your interest payment will be based on $50,000.

Sometimes lenders like to interview or see the license of the contractors who will be building your new home, so often it is beneficial to speak with the bank where the contractor has a relationship.
---
We are often asked this question "What is the Difference Between a Manufactured Home and a Modular Home?"and it is a good one. With today's advances in the factory built construction industry, it is difficult to know the difference between a manufactured home and a modular home. This blog is designed to clarify the distinctions.


Essentially, a manufactured home is built in a factory and remains on its transport frame throughout its useful life. The truck backs into the desired location and unhooks the chassis and drives off.

A modular home is built in a factory in the form of modules. The modules are built to your desired design and floor plan, and built to exact and stringent specifications and standards. The modules are then taken via transporter from the factory to the site. It is then lifted off the transport trailer by crane and set on and connected to a permanent foundation.

Although manufactured homes come in double width units, they are never more than two boxes, or modules, and never have a second story. Conversely, modular homes can be any number of boxes; they can be designed as small vacation homes or large estate style homes and everything in between. A standard colonial style home would likely by four boxes.
---
Many people wonder about the resale value of a modular home and how it compares to that of a stick built home. Modular homes cost about 10-15% less to build, but they sell at the same price as a stick built home. This is because modular homes are appraised to the same standards and specs of a site built home, which means that both style homes are assessed at the same amount.

It takes about 10 to 12 weeks from the day a customer decides on a modular home to the day that same customer get the keys to their new house. While the house modules are being built at the factory, we are pulling permits and doing the site work. When the modules arrive on site, it is about a 3-6 week process to build your new home.

But the best part of building a modular home is the guaranteed pricing. When you decide on a floor plan, the cost of the home can practically be priced out to the penny. At Tide Water Custom Modular Homes we know how much a home is going to cost and how much our on-site labor will be cost because it is essentially the same for each job. There are no surprising materials costs or labor costs. That is a big advantage for the home buyer.
---
Modular homes offer a vast range of pre-designed homes, as well as custom designed homes with many benefits, to fit any family's needs. Each home can be further customized to specifically address the individual home-buyer's desires. Spring is here and this usually brings with it an increase in home sales. Many people around Virginia are starting to think about buying a new home. And, as the low mortgage rates slowly rise, buying a new home sooner rather than later is the most optimal choice.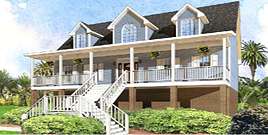 For those who are considering a newly built home, you should consider building yourself a modular home. As oil prices increase, all industries are victim to increased costs. However, modular homes companies are less affected than the stick built construction contractor. The modules for Tidewater Custom Modular Homes are built in controlled environments to exact specifications. Therefore construction costs are already lower than the traditional builders'. The modular homes takes less time to construct; therefore, you are paying less for the worker's time on site thus decreasing labor costs as well. The modular home factories have their materials on site in bulk, therefore are less victim to the immediate increase in transportation costs of goods and materials that most shipping companies are adding onto their invoices. Therefore, your materials cost is lower as well.

In spite of the economic situation people still need to buy a home. Rather than buy a brand-new stick-built home, a preferred solution for consumers (and the institutions that lend them money) might be a custom-built modular home.
---
Having a modular home built is one the most cost effective ways to build a new home. The floor plans are easy to view, and there are many options to choose from when it comes to picking the perfect floor plan. Whether you need a floor plan for a ranch, a vacation style home, or Cape Cod Style, modular homes can be built for your needs. Many people have a misconception that modular homes are cookie cutter in style. But, did you know that modular homes can be custom designed? Our floor plans are designed by builders and architects in order to maximize the space and practical use.


Often, when people think of modular homes they think simplistic, nothing special, and undersized. However, this is far from true today. Manufactured homes are well made, versatile and customization is available in the layout and design. Although we have floor plans for many "in-stock" homes, modular homes are not limited in design and can range from 1000 square feet to 4000 sq feet and up. Additionally, if you already have a floor plan but have opted against a traditional stick built home, or are investigating your options in modular homes, many floor plans can be modified to accommodate modular home construction.

Modular homes are for those who want a new, beautiful home with a controlled budget, and they want it in less time than it would take to build a traditional stick built home. When considering a new home keep in mind that manufactured or modular home plans are easily customized, with varying amounts of square footage and multiple bedrooms to meet your needs.


---
Architects, designers and home buyers are interested in creating and buying new, environmentally green homes. Green is chic, and modular homes are green. Their designs offer so much versatility and appeal that their popularity is on the rise. With new methods of construction and transportation, designers and builders are cutting waste and energy consumption, and cutting production costs while achieving greater methods of sustainability.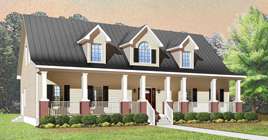 Modular Homes are built from modules that are assembled in a factory to exact specifications. Everything is cut with more exactness and everything is applied and assembled more accurately, saving time, materials and energy. These standards extend the life and cuts down on upkeep of the home over time. Modular home factories also produce less waste than onsite construction. Where modular home production generates around 2% waste, stick built homes generate 30-40%. Also, less time is spent constructing modular homes, so production costs are lower. Ultimately, modular homes allow eco-friendly construction at a fraction of the cost, to a larger consumer base.

Because modular homes are prefabricated, the modules allow you to design a home that will complement the space you are placing it on. You can change the design and make it fit the space rather than make the space fit the home; again saving energy and material costs.

For eco-friendly construction, and a customized, newly built home that is energy star qualified, contact Tidewater Modular Homes.
---
Modular construction is one of the fastest growing forms of home building in the market today. Increased efficiency and our ability to apply modern technology to the needs of the market place are what make it so desirable. Tidewater Custom Modular Homes offers designs that encompass the entire spectrum of the market; from affordable single-family designs to high end luxury homes to vacation getaways. The combination of reduced construction time, more efficient construction and unlimited customization are the primary reasons why many home buyers are switching from traditional stick-building to modular home construction.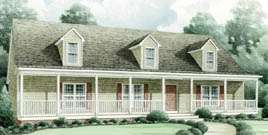 One question always seems to come up in our conversation with people as they contemplate their choice between a stick built home and a modular home. "Which type of home is stronger, modular or traditional?" The general consensus is that modular homes are stronger. They are built in a controlled environment where outside elements cannot add wear and tear. Modular home builders also use screws instead of nails and add glue to all the joints to increase the strength of the home.

Today's modular homes rival any site-built home in design and functionality. Advancements in computer design and factory technology allows almost any custom home plan to be constructed as a modular home. For buyers interested in a fine-crafted home that can be built and completed in a fraction of the time of a conventional home, modular homes have become the preferred type of construction by many.
---
There are many different home styles and floor plans to consider when you are building a new modular home. You have the option of a standard floor plan or you can have your house customized however you would like, in the actual layout, or in the interior set up. Further customization can be done as well. In the kitchen an island or wine rack could be added, columns could be added to the living or dining area and transoms and side lights could be added to the front door. Perhaps you are interested in entertaining, a rock surround can be added to the fireplace and an opening for the television could be added to the wall above. There are so many special features to add to your new modular home, inside and out, we can't even discuss them all here. But rest assured that your new home will be personal, and built just the way you dreamed it.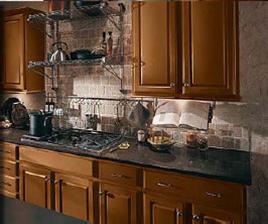 With Modular homes, the construction process is dramatically shortened. Your new home arrives to your property in the form of modules, which are then assembled on site. The on-site construction process itself is a wonder to watch as modules for your new home are removed from flat beds and erected with a crane. The process takes weeks instead of months, and sooner, rather than later, you are moving into your new home.

Prior to this process, you meet with Tidewater Custom Modular Homes and discuss floor plans and design. You have unlimited options, from colonials to cottages, and ranch homes to Cape Cod style, and each style home has their own individual flare. You get to decide everything you would with a traditionally built home such as cabinet styles and finishes, hard wood flooring and recessed lighting. In the end, you have a custom built, custom designed home of your dreams in much less time.
---
1. State-of-the-art home building– Modular home companies are able to produce custom modules for custom homes. They have the ability to take any design and build it in pieces in a factory, to be assembled into a custom home in the field. Look at a stick built job site in the rain and you will appreciate that modular homes are built in climate controlled plants monitored by quality control.

2. ENERGY STAR- This does not just mean appliances. In order for a home to have the ENERGY STAR logo and certification, it has to pass a series of inspections to prove that it was built to certain tolerances, AND performs well. The certification ultimately tells you that the home consumes 15% less energy than a home built to today's building code. Tidewater Custom Modular Homes is energy star certified.

3. Shorter, more predictable time line-The modular process allows the home to go from foundation to 80% complete in one day. While a stick-built home might go through rain, snow, wind, and heat stages, a modular home is built in about 2 weeks in the factory, and you could be living in your new home in a couple of months.

4. Built stronger- Because modules are transported and placed by a crane onto the foundation, they are built as six-sided structures, 4 walls, 1 ceiling and 1 floor. The home is then made of all the stacked boxes, which is stronger and more stable than stick built house.

5. Reliable Quality Control-The only way homes are built to exacting standards is by having a QC system in place. Modular homes are built in factory settings with quality control checks. Each modular production plant is inspected by third party inspectors and the modules are inspected in the field once they are set.
---