Modular Homes VA Blog
1. State-of-the-art home building– Modular home companies are able to produce custom modules for custom homes. They have the ability to take any design and build it in pieces in a factory, to be assembled into a custom home in the field. Look at a stick built job site in the rain and you will appreciate that modular homes are built in climate controlled plants monitored by quality control.

2. ENERGY STAR- This does not just mean appliances. In order for a home to have the ENERGY STAR logo and certification, it has to pass a series of inspections to prove that it was built to certain tolerances, AND performs well. The certification ultimately tells you that the home consumes 15% less energy than a home built to today's building code. Tidewater Custom Modular Homes is energy star certified.

3. Shorter, more predictable time line-The modular process allows the home to go from foundation to 80% complete in one day. While a stick-built home might go through rain, snow, wind, and heat stages, a modular home is built in about 2 weeks in the factory, and you could be living in your new home in a couple of months.

4. Built stronger- Because modules are transported and placed by a crane onto the foundation, they are built as six-sided structures, 4 walls, 1 ceiling and 1 floor. The home is then made of all the stacked boxes, which is stronger and more stable than stick built house.

5. Reliable Quality Control-The only way homes are built to exacting standards is by having a QC system in place. Modular homes are built in factory settings with quality control checks. Each modular production plant is inspected by third party inspectors and the modules are inspected in the field once they are set.
---
Building a home will probably be the biggest investment most homeowners will ever make. For that reason, most homeowners take their time with the process, making sure that every detail is considered and every option is explored. A home is an investment that is literally built to last a lifetime, and it's not an undertaking to rush into.

However, there are situations when housing is needed immediately, without the time or opportunity to belabor the process. Whether housing is needed due to a natural disaster, such as a flood or hurricane, fire or severe water damage, or for other reasons, such as additions to the family or relocation, there are times when the need to build a home is urgent.


If you are considering building a home, but need one right away, then you probably think your options are limited to mobile homes. Think again. A modular home can be constructed in much less time than a traditionally built home – often in a matter of weeks – while providing all the benefits of traditionally built homes, including initial quality and appreciation over time.

For those who need to construct a home, but do not have the several months to a year that it can take to build a traditional home, there is no need to resort to mobile homes. A modular home can be built in a fraction of the time it takes to construct a traditionally built home, while still giving the homeowner the peace of mind that comes with knowing he or she has invested in a home that will not only last for many years to come, but that will also continue to accrue equity. What's more, a modular home, just like a traditional home, can be modified and remodeled in the future, if the need arises. Contact us today to learn more about the modular process and how we can help build your dream home.
---
Custom means you are NOT locked into any architectural design. It appears that it is going to be a long time before the general public discards the misconception that modular homes are restricted in design. Nothing could be farther from the truth. Most everyone wants to be able to customize their home to suit their needs and lifestyle. Tidewater Custom Modular Homes supports that desire as the floor-plans and options for each home that we build remain open for you to customize to fit your needs even to the extent of designing and building to your custom plans. We will ask questions and do a lot of listening to ensure your hopes and expectations are exceeded and your house will feel like a home.

Our goal is your complete satisfaction with the whole building process. We and our manufacturer's staff of designers and engineers stand ready to make your dream home come to life. We enjoy the professional satisfaction of building dream homes. Dream homes by design are products of very specific personal preferences. Rarely can a building plan be pulled off the shelf and converted into a dream home. Dream homes only START with a basic plan and then is CUSTOMIZED to turn the plan into a dream. This is what we do and why the word "Custom" is such an important pat of our business name and business model.

Whether you've been planning your dream home for a day or a decade, bring your thoughts to us and we'll be glad to demonstrate how we can surround that dream with the strength and quality of modular design. Contact us today to learn more about our modular construction process and how we can turn your dream home into a reality.
---
To show our gratitude and appreciation for our clients we are offering a 2011 winter stimulus package just for you. We have 6 incredible incentives for you to choose from, each having their own unique and person touch from TC Modular. But not only are we offering incentives for our clients but we are throwing in an added bonus: You are welcome to come to one of our Saturday morning factory tours and receive a $1,000 rebate! This is a limited time offer and will only be valid until 3/31/2011. Be sure to order your home today and get the dream home and deal of a lifetime!
Additional Living Space

Add 2' to Your Home at NO Additional Cost!

Add 2 feet and one of the following...

Bedrooms
Living Room
Dining Room
Den
Great Room

* Footage is added to length of boxes, not width (maximum of 68' box).
* Additional cost applies when adding footage in baths or kitchen if cabinets are also added.

Energy Savings

Upgrade Your Insulation & Your Windows!

House Lifetime Energy Savings

R-30 Floor Insulation
R-15 Wall Insulation
R-38 Roof Insulation
Argon-Filled Windows
7/16" Radiant Barrier OSB Roof Sheathing

* All Insulation is 'Eco Batt" (formaldehyde free).

Kitchen Upgrade

Add Glamour to Your Kitchen!

Granite Countertop

3 cm Thick Granite Countertop
4" Granite Blacksplash
Maximum 20 Linear Feet
Single Roundover Edging
Stainless Steel Under-Mount Double Bowl Sink

*Islands not included.

Custom Finished Details

Add Finishing Touches to Your Home!

Add the "Finishing Details" to Give Your Home a Personal Touch

Windows Sills
5 1/4" Baseboards
3 1/4" Casings
4 5/8" Crown Moulding

Appliance Package

Add 3 New Appliances to your Beautiful Kitchen!

Choose from Black, White or Clean Steel for Your 3 New Appliances

Side by Side Refrigerator
Over the Range Microwave
'Free Standing' Smooth Top Electric Range

Cash Rebate!

Extra Cash for Projects After You Move In.

Enjoy a $1500 Cash Rebate if you select this incentive option. Ask your builder for details.
---
Tidewater Modular Construction is safe and sturdy, and are more resistant to natural forces because of precision cuts that are fit and fastened in the factory. The construction technology for modular homes calls for glue-nailed sheathing and decking plus additional framing members which makes modular homes most likely to endure nature's onslaughts. The structure has to withstand being hoisted by crane and hauled on carriers over roads. The motion and forces that the structure is put under during these processes exceeds that of healthy earthquakes.

We ensure that our modular homes are built with high safety standards in accordance with federal laws requiring smoke detectors, escape windows and incombustible materials around furnaces and kitchen ranges. Our modular homes assure the buyer that all electrical, plumbing, mechanical and structures are built to a HUD national code, which exceeds any local standards.

Stick- built homes are sometimes constructed in areas where local building codes may be less, and the safety of the homeowner and family may be compromised. We make sure our modular homes are built in a safe environment and according to HUD standards. We go above and beyond to make sure you have the home of your dreams. Tidewater Custom Modular Homes researched modular construction for several years to ensure we offered the highest quality homes from a manufacturer with a history of quality construction, experience, potential for growth and, most importantly, a solid reputation. Contact us today to learn more about modular homes and how you can get your custom built dream home today.
---
Today, the educated consumers that are seeking to have a new home built to their specifications are increasingly turning to modular construction to achieve a higher quality of construction without sacrificing architectural style, open floor planning and quality finishes. Invariably, when clients initially call us, one of their first questions is "how do I get started?"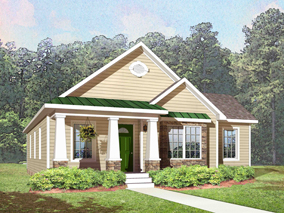 If your interest is having your new dream home built with modern modular technology and you, too, want to know "how to get started", we offer here the most important element to insure a successful project: selecting the right manufacturer of the modular housing components.

The modular components of your new home will be manufactured in a factory and those components will be shipped to your home site and finished to turnkey by the builder. Be sure to check out our selection of custom floor plans here. In addition to having floors plan readily available to our customers you can specify which kind of additions you would like to have added on. In our design gallery we show some popular additions such as our kitchen and bathroom ideas. As you can see we are very committed to the modular home industry and to helping out our customers in any way possible, so if you have any other questions feel free to contact us.
---
Winter is here and you will be using a lot more energy in your modular home, from having lights on longer to a furnace working overtime. Here is an easy check list to follow when you are trying to reduce your monthly energy bills. You should seek professional assistance in each of these areas to assure the proper corrections have been made.

Have an energy audit- can be conducted by your local electric co-op or a private party.
Seal air leaks- check around windows, doors, and any other seams/joints in your home.
Check mechanical systems- change furnace filters regularly and systems for proper working order.
Heat efficiently- replace old systems with new efficient ones.
Use a programmable thermostat- this helps heat only when you need it.
Control hot water use- change to a low flow shower head and lower the temperature on your water heater.
Replace light bulbs- use CFL's (Compact Fluorescent Lights) as they will save you a considerable amount on your bills over time.
Use outlet switches- this is where you have a way of shutting power of to small appliances, televisions, etc.
Install timers/motion light- these work well for frequently used lights and others that are in hard to reach areas.
Buy ENERGY STAR products- these products are there to save you money.
Saving energy
and being more
energy efficient
is what
modular homes
are all about. When you buy a
custom
modular home
you are already saving money and helping the environment. If you have been thinking about
modular homes
and have any questions about how they are constructed or why they are so popular
contact us today
. Be sure to also check out our
floor plans page
and
inventory
to see which homes we have already in stock for you.
---
Are you looking to expand your home? Additions are typically the most common way to expand your home's footprint. But additions can be costly, take a long time, and finding the right contractor you can trust can be difficult. Fortunately, there is better, faster way to build your home addition: a modular home addition. It doesn't matter what type of home you currently have. You can easily add an addition to your home with modular construction.

We know how it is. You contact a builder, scope the project, see the price tag and time line, and then frustration sets in. Fortunately, home renovations with with modular home additions can be completed much faster, less expensively, and with fewer headaches.
Here are a few points our customers have discovered. Modular home additions:
Are more economical.
Have no sudden cost surprises.
Are more energy efficient.
The bottom line: modular construction is the answer. Contact Tidewater Custom Modular Homes to see if adding a modular home addition is right for you. Tidewater is more than happy to work with an existing home owner. We can expand your existing home and deliver to you the space you need.
---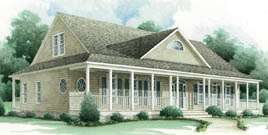 One of our most professionally rewarding acts is to build dream vacation homes and custom estate homes for our clients. Land across Virginia is being offered at value pricing we haven't seen in decades. With more land available in more places and all at valued cost, people are taking full advantage of the situation and building their vacation homes. Virginia beach is one of the most popular visited tourist locations in the U.S. and Tidewater Custom Homes is experienced in giving their clients the perfect beach vacation style home they deserve. With many choices to choose from and modular home design being more affordable than stick-built homes its not wonder why many people are choosing to custom build their homes.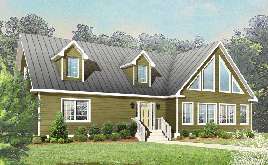 With vacation home plans starting at 1867 square feet and ranging to 2657 square feet you can rest assured knowing that your vacation home will be the perfect get-a-way with a loved one or family gatherings. And working with Tidewater Custom Modular homes ensures that we can quickly deliver an affordable vacation getaway that you deserve. Be sure to take a look at our "Vacation Style" floor plans and our many other custom design floor plans as well. Contact us today should you have any questions about modular home design and let's discuss how to turn your dream into reality.
---
There's no denying it, we're in a serious economic crisis. Financial organizations are collapsing under the weight of bad debt that they have taken on and consumers are experiencing uncertainty and a lack of confidence in the market. As a result, lending companies are lending less money and the average person is watching their expenses very, very closely.

In spite of the crisis, life goes on. People still need to buy homes to live in. And to do that, they need to get a mortgage. Rather than buy a brand-new stick-built home, a preferred solution for consumers (and the institutions that lend them money) might be a custom-build a modular home.

At first, those unfamiliar with the concept might wonder two questions: "aren't modular homes just like mobile homes?" and, "isn't custom building usually expensive?"

Custom modular homes are not mobile homes. They look just like regular homes. The difference is that they are built in units in a factory-like setting by professionals and those units are shipped to the site and put together within just a few days. This method is actually cheaper to build in general AND it allows for customization, because prospective homeowners can select different units and put together the floorplan they want at a price that is lower than a conventionally built home.

Custom built homes at a price that is lower than a conventional home is attractive to anyone thinking about having a home built. But modular homes are attractive for other reasons, too:
Because modular homes are faster to build than stick built homes (taking weeks instead of months to build and erect), there is less money required in a building loan and it gets paid back faster.
Modular homes cost less to live in because they are more efficient to run and they come with a 10 year warranty.
Consumers need to spend wisely on a solution but they also need to consider the future. How will they leave the earth for their children? Custom modular homes are more environmentally friendly because they are faster to build and there is less wasted building material.
The benefits are clear: In today's tight economic times, custom modular homes are the right answer for consumers who want to spend less now and in the future, who want to enjoy the home they live in, and who want to still make purchasing decisions that are good for the environment. And with so many different floor plans to suit each individuals needs there is virtually no reason why to not choose modular. Contact us to find out how you can get started on building your custom dream home today
---