The Wynburg Cape Cod Modular Home Floor Plan – A Traditional Cape Cod Home That's Modified to Fit Modern Living– Virginia Beach, VA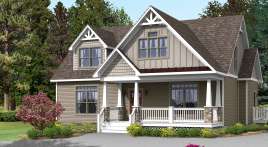 The Modular home construction offers a more convenient and a quicker alternative to traditional home building. It also never fails to amaze interested home buyers with a wide array of options for customization and individualized designs offered just like what you will find in The Wynburg modular home.
Your modular home can be tailor-fitted based on your wants and needs. For instance, if you choose The Wynburg Cape Cod style modular floor plan, you will be able to modify and beautify this 1,917 sq. ft. living space according to your personal preference and specific requirements. Aside from strategically located bedrooms and bathrooms, you will also have a kitchen that has a flush bar and pantry, and opens to a more spacious dining area. Just a few steps away are the washer space and dryer space which are adjacent to a walk-in closet with shelves. This arrangement makes it easier for you to do the laundry and arrange your clothes afterwards..
Just like the other Cape Cod style modular homes in Virginia Beach, VA, The Wynburg modular home also has steep, pitched roof with dormers. Because it has minimal exterior ornamentation, a porch is usually added to accentuate the central front door that sits in the middle of two multi-paned windows. This porch is also a perfect place to gather and have more quality time with your loved ones in addition to the indoor space that the living room downstairs or the sitting room upstairs provides..
Cape Cod homes have been around for years. Now, these traditional home designs are now being modified to fit modern living. To find out more about them, contact Tidewater Custom Modular Homes.