The Kingsfield Ranch Style Modular Home – Packed with The Latest Amenities and Designed to Utilize All Available Space – Williamsburg, VA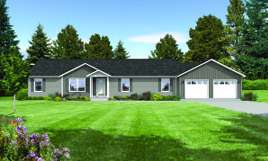 The Kingsfield Ranch style modular home is packed with the latest amenities and designed to utilize all available space to create an aesthetically pleasing and functional home that you will definitely enjoy spending time in with your loved ones for the years to come. It has 3 bedrooms and 2 bathrooms that are strategically situated in its 1,898 sq. ft. single story modular floor plan.
The Kingsfield ranch style modular floor plan in Williamsburg, VA has an owner bedroom which is actually the largest among the three. Connected to it is an owner retreat which you can actually modify to serve as a home office or study room, depending on your needs as well as your family's. It also has an owner bathroom that has a bath tub, sinks with countertop, and a linen closet.
Separating the larger bedroom of The Kingsfield ranch from the two smaller bedrooms is the living room. It opens to a spacious kitchen which has a little pantry and a wide dining area that face the two smaller bedrooms. Between these two is a common bathroom which also has its own bathtub and sink.
Modular home construction can give you more options for customization. The living room is so spacious that you can take a part of it and turn it into an additional room which can act as a storage room while there is still no guest to accommodate. You can also add a porch, deck, or sunroom to enhance your single story home experience.
To find out more about The Kingsfield Ranch style modular home as well as other available floor plans under the ranch selection of homes, contact Tidewater Custom Modular Homes.