Modular Homes VA Blog
Living or vacationing near the beach is a dream. Here at the award-winning Tidewater Custom Modular Homes, we'll help you turn that Virginia Beach dream into reality.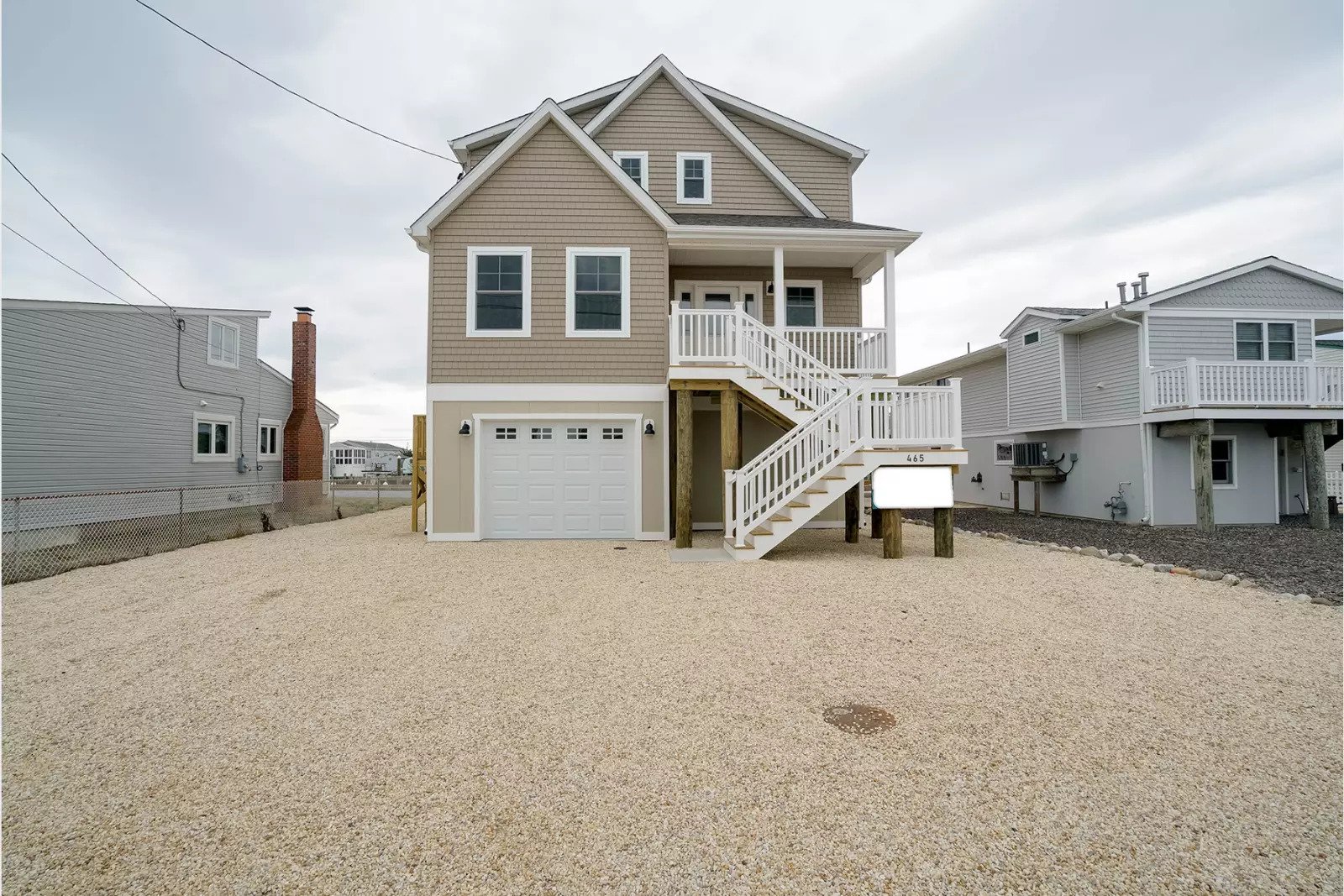 Today's blog focus is on vacation style modular homes that we've build for Virginia Beach homeowners over the years. Take a glimpse of one of our vacation-style modular home called the Beach Break. It is a perfect holiday home for celebrating beach life. This beachfront home offers a 1,155 sq ft on the first floor and 1,128 sq. ft for the second floor. It also features five bedrooms and 3.5 bathrooms. It provides spacious and stylish living space. The kitchen space is wide and extends to the dining room and living room. This two-story floor plan also includes a porch but there are various other designs you can select to ascertain that your home's exterior also has a character as it has in its interior.
If you are looking for a reliable team that will help you build your dream vacation-style home like the one in the photo, contact Tidewater Custom Modular Homes. A vacation-style modular home is one of our expertise.
---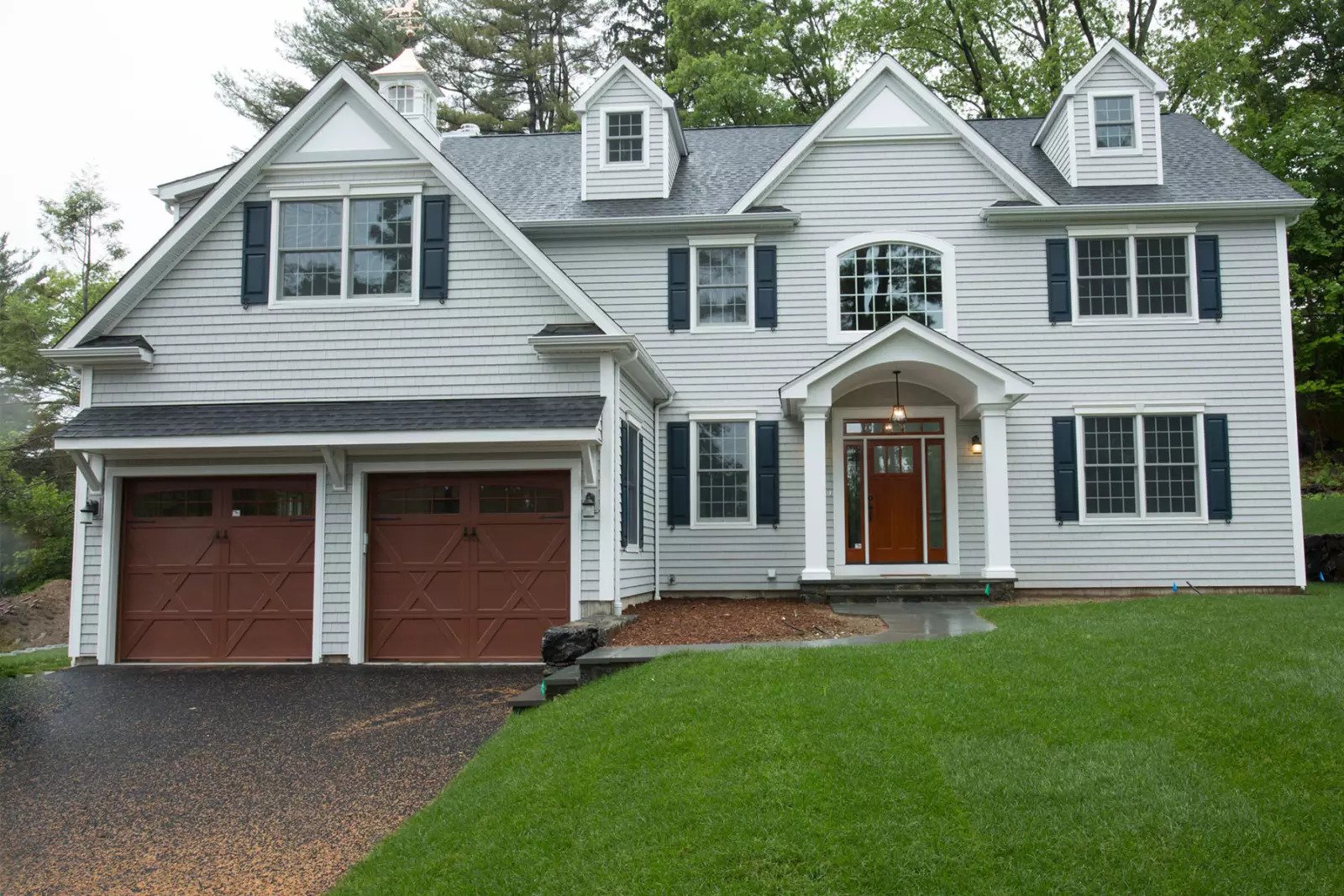 Southern living has its distinctive look and feel. The demand for charming, practical, and cost-effective home solutions is driving the ever-increasing demand for modular home construction. Today Tidewater Custom Modular Homes is proud to introduce to you the Henderson Southern Lifestyle Collection Modular Home Floor Plan.


This design combines the spaciousness of a two-story home with the intricate roof features of the Cape Cod. Cape Cod style houses originated in the early English settlements in the East Coast. Modular Cape Cod Homes are widely known for their traditional dormers and gabled roofs that add-up allure to the facade. The attached garage in the first floor is another exciting feature that will captivate car owners. They provide the space required by large families in need of large living space. Even with the expanse in the interior, the perpendicular attached garage design generates enough space for the yard outside. This home possesses both the aesthetic heritage and pragmatic blend every homeowner should aspire to.
The flexible options afforded to you regarding this dream home are something that we both celebrate and are eager to share with you. Our award-winning team is ready today to get started on your next dream home.
To learn more about the Henderson Southern Lifestyle Modular Home Collection or any other of the many modular home styles the we build across the greater Richmond area, contact Tidewater Custom Modular Homes .

---
It's great living here in Isle of Wight. We enjoy that country feel yet live so close to the modern conveniences of our neighboring cities. We take great pride in building country-style modular homes for those of you who value a traditional farmhouse look with all the modern conveniences and customized improvements. Let us introduce to you the Homestead Series modular home offering a fantastic farmhouse vibe.
Homestead style homes offer a perfect fusion of a country and contemporary home design. They usually feature a veranda that provides a spot for relaxing and retreat. This is what gives this modular home design that casual and comfortable appeal of farm-style living. As with any Tidewater Custom Modular Home build out, this particular plan is highly customizable. It offers a wide garage space that enables you to be extremely flexible in how you lay it out. We'll talk you through the variety of garage door designs to match the entire exterior look to your exact taste. They can be a single-story or a two-story home that features an open concept kitchen with an island, a walk-in pantry, and a farm-style sink. The living area may have a shiplap accent wall that hints the farm-style charm. Although homestead home looks very much like a farmhouse, it features a deluxe master bedroom with a master bath that has a free-standing tub and a large shower. You will surely love the simplicity and countrylike details of this home.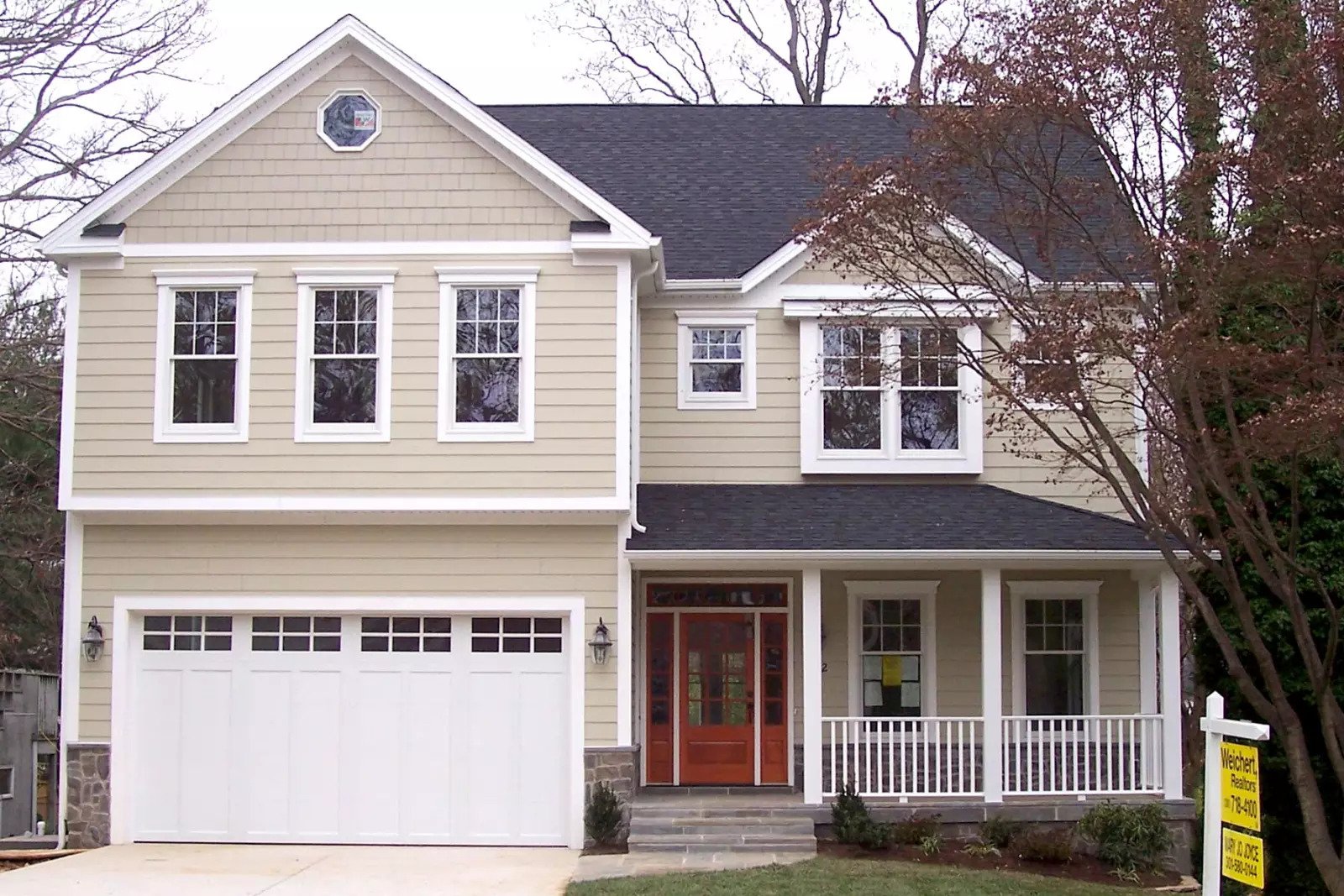 This is a fantastic floor plan that we'd love to talk to you about. To learn more about this homestead-style modular home or any other of our countless floor plan offerings, contact Tidewater Custom Modular Homes.
---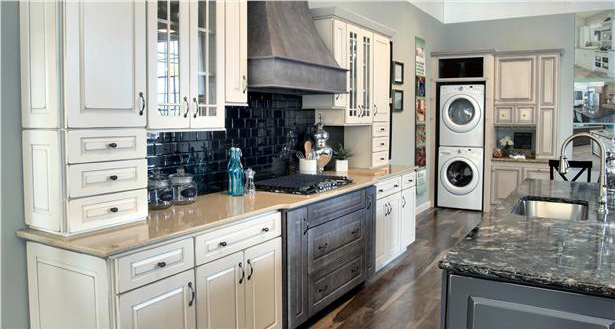 In today's Tidewater Custom Modular Home blog post, we thought we'd share with you a picture of a completely customized modular home kitchen that we are particularly proud of. For this home buyer, a downstairs laundry in close proximity to the kitchen was a highly desired feature.
How many floor plans do you suppose are out there today that place the washer/dryer in plain view of the kitchen? Not many. The point we're making here is that when you trust our award-winning team here at Tidewater Custom Modular Homes, you can count on your future home being built to the exact specifications desired regardless of the unique nature of your floor plan desires.
Let's talk a moment about the cabinets of this fine kitchen. The image depicts the durable and beautifully-crafted cabinets typically incorporated into our modular home formats. We are hands-on in product offerings, selection, and development on your behalf. We guarantee the quality and durability of our creation.
Let's get started together on your next custom modular home design. If you're not fully informed about the superiority of modular construction over traditional stick-built construction, click here. Then, contact our team here at Tidewater's Custom Modular Homes.
---
A key word in our business' name Tidewater Custom Modular Homes is the word "Custom". Those of you who follow us on Facebook and in our blog have long understood the value of modular construction over traditional stick-built construction, but we know it takes a while to understand the totality of just how customizable your future modular home is. So
The following smart cabinet kitchen designs give some idea on how your modular home's kitchen can be fitted to you own personal taste.
Adjustable Pantry Shelves Refer Cabinet with Wine Rack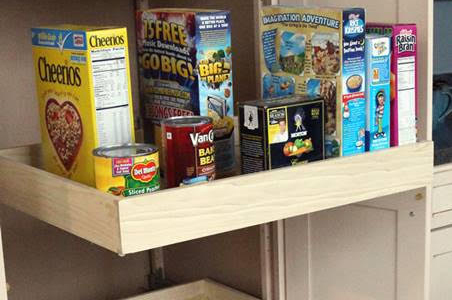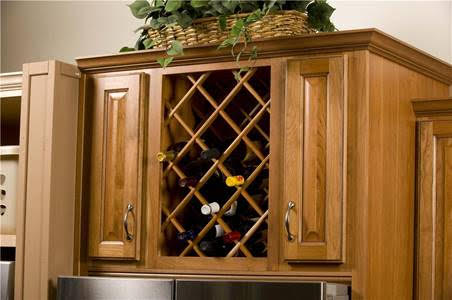 Pull-out Cutting Board Wall Plate Rack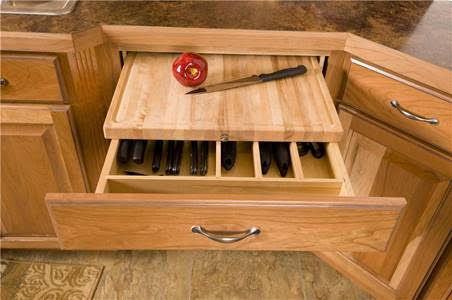 Blind Corner Base Swing Trays Pull-out Spice Rack in Hearth Kitchen Overhead Corner Revolving Shelves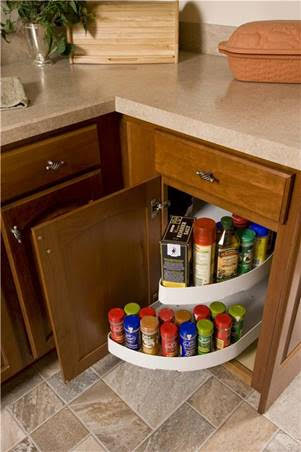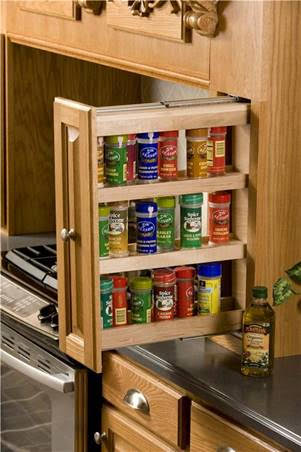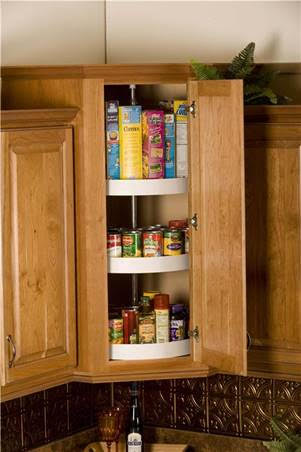 Utensil Rack Base Pots and Pans Holder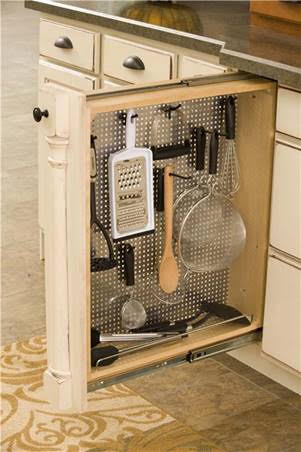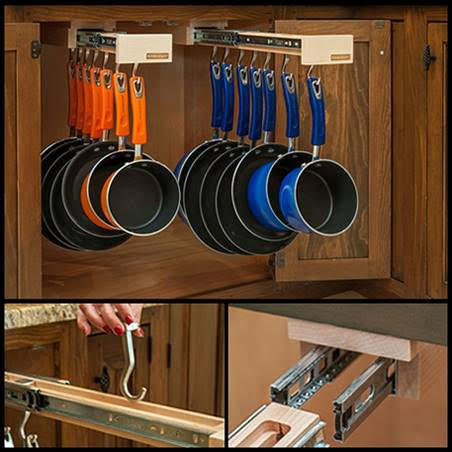 These kitchen cabinet and other features are just a small subset of what we can do for you. It is certainly our pleasure to consult you on the countless different ways to go here. To learn more, contact Tidewater Custom Modular Homes.
---
The utility room is an important section of the home that typically functions as the laundry/ ironing area and storage for other practical equipment. This is also where you sort and organize clean clothes after they are washed and dried. This is one area of the home that most new home buyers need a bit of an assist to customize for their specific tastes and needs. We welcome the opportunity to help you here.
When this space is well thought out and designed, it can be a game-changer. The following images are just a couple of examples of utility rooms that we can build for you in your new modular homes: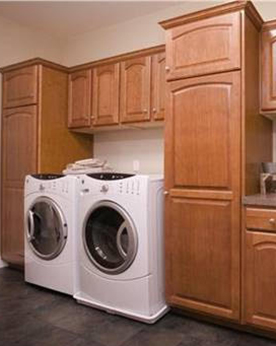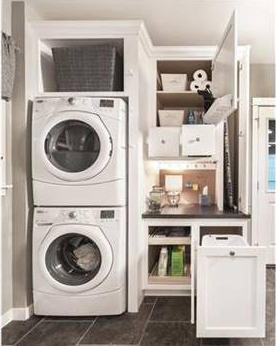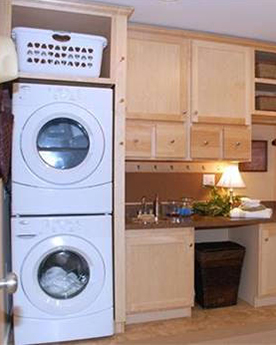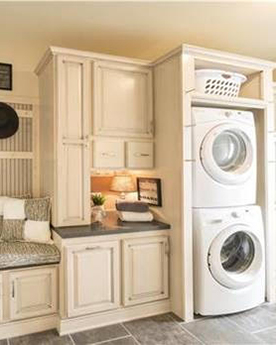 Quite a contrast, right? Does one of them resonate with you? If yes, great! We'll build it out. If no, give us a call here at Tidewater Custom Modular Homes. We'll help you ensure your new custom modular home is smartly organized, eye catching, and extremely functionally efficient.
---
Here at Tidewater Custom Modular homes (serving Norfolk and the entire Tidewater area), it's not just about building award-winning custom modular homes, it's about consulting you every step along the way. There often comes a time in the home building process where the depth of choices becomes overwhelming for the new home buyer. Rest easy, helping you make those decisions is a privilege that we take seriously. Take window selections for instance. In your custom modular home purchase, you have a host of options. Today we'll share with you one of the more popular sections.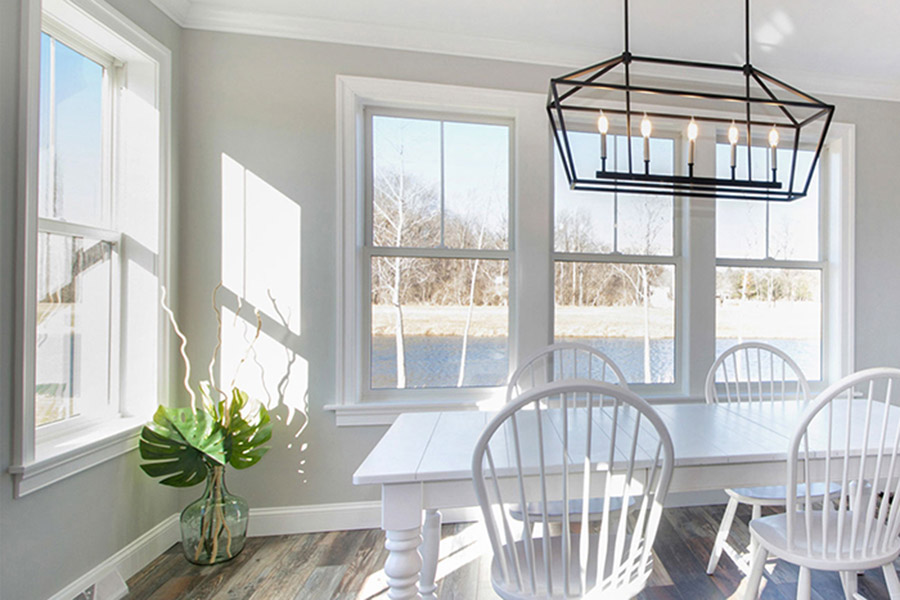 Modular homes use new and improved double-hung windows with classic design. It is crafted using heavy duty and low-maintenance vinyl that comes with wide array of options, features and sizes.
Features & Benefits of A Double-Hung Windows
Colonial brick mold design for traditional look and energy-efficient glass window design to help energy bill while keeping the home comfortable in every season
Requires minimal maintenance and can remain attractive for years
Tilt-in sash for cleaning ease
Contoured lift handles for easy operation
Fusion-welded vinyl frames for sturdier, durable design
Broad range of complementary picture windows and specialty shapes
ENERGY STAR® U.S. certified
Limited lifetime warranty for customer's peace of mind.
Once again, double-hung windows are but one option for you. We would value the opportunity to build and consult you regarding your next home build-out, every step along the way. For more information about the very best value for your home buying dollar, contact
Tidewater Custom Modular Homes
.
---
We talked last week about two-story modular home construction options and thought we follow that up with another popular style home that we are building across Hampton Roads: cape cod style modular homes. This style of home is distinguished by their pitched roof and vintage New England appeal. They are perfectly symmetrical and features shingles that cover the house, fancy shutters on the front-facing windows, roof dormers.
Cape Cod's sloping roof is more than just a distinctive feature. While most cape cod designs are single story floor plans, some home builders love the cape cod design as they seek to reduce initial home building construction cost while retaining the option to easily expand their living space in the future. When the time comes to add additional living space, the undeveloped space under the high sloping roof is converted into an extra bedroom. So, beauty, functionality, and expandability all in one custom modular home design.
The following are some our cape cod-style custom modular home offerings: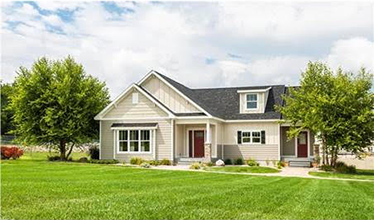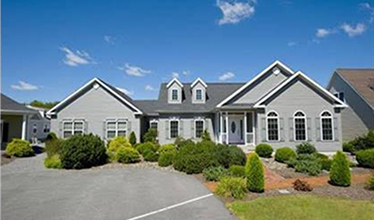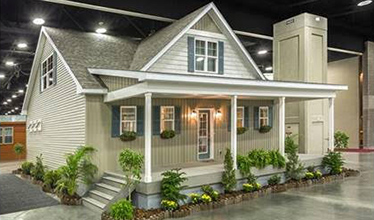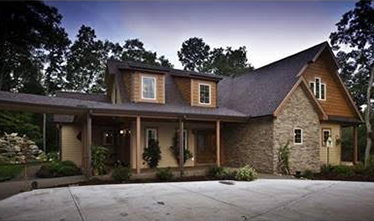 To learn more about the beauty of cape cod style modular home construction, contact Tidewater Custom Modular Homes today.
---
The two-story style modular home is the most popular style of modular home built across Virginia Beach and the surrounding areas. What we want to do here today is pictorially demonstrate to you the unique appearance and functionality of our custom two-story modular home offerings. We offer you the ability to build a truly unique and eye-catching Virginia Beach home.
The bottom floor plans are completely customizable with most new home buyers seeking downstairs master bedroom suites. This home style is ideal for a growing family. Virginia Beach lot sizes tend toward the small side and this style home is perfect for small lot construction.
Here are just a few of your Tidewater Custom Modular Home two-story style offerings: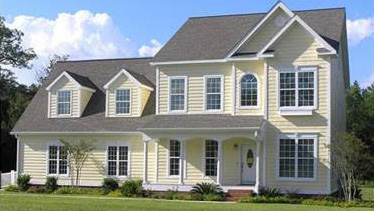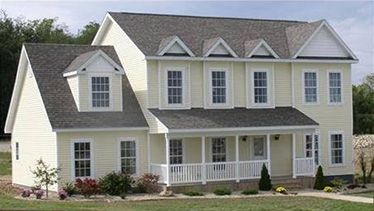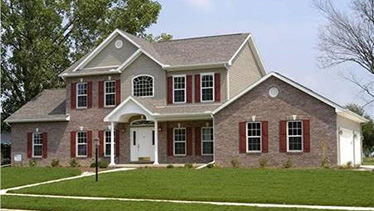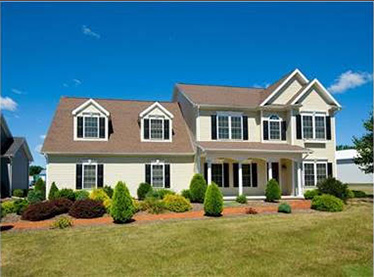 When it's time to begin your new Virginia Beach home construction, allow us the opportunity to demonstrate how, through modular home construction, you can get better value and more space for your homebuilding dollar. Contact Tidewater Custom Modular Homes anytime.
---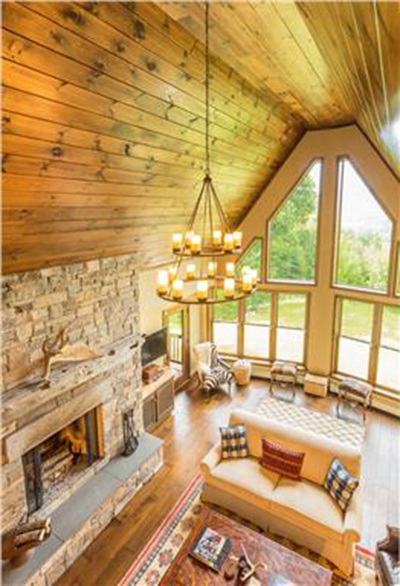 If you are wondering if modular home construction offers vaulted and cathedral ceilings, the answer is absolutely YES! A vaulted ceiling extends from the first-floor level to the ceiling of the second level. A vaulted foyer will make the entry of your two-story home more exquisite and breathtaking.
The vaulted ceiling requires an extra job on the drywall where modules and floors intersect. Also, more railings are needed to be installed for the balcony and stairways. On the other hand, the cathedral ceiling is open to the pitched roof above. Converting a flat ceiling into a cathedral ceiling creates a sensational aesthetic appeal to the living space. This demands a more consolidated structural frame to uphold the roof.
Planning for a vaulted or cathedral ceilings would mean extra work for the modular home builder. Thus, some contractors don't offer home designs with vaulted foyers. The good news is, you have come to the right modular builder. Tidewater Custom Modular Homes can help you materialize your dream modular home with a vaulted/cathedral ceiling. Contact us today to get started with your modular home plan.
---