Modular Homes VA Blog
When building modular homes in Chesapeake, VA, everything always starts with picking the perfect floor plan that homeowners would customize further. These homes are a great choice for those who want a new home that can be built in significantly lesser time and expense as it would take to build one in a traditional manner.
Modular floor plans help you choose one that can best work for you, especially if you do not have yet a clear picture of what home you really want to build. This selection of homes is a collaborative work of architects and builders. They are pre-designed such that the floor area can be optimized as you incorporate your personal choices on the features and fixtures to include in your future home.
Having a control over the building process is just one of the many advantages of modular construction. Your modular home will be constructed in a process similar to an assembly line. Not only will this use labor and materials more efficiently but also maintain top-notch quality control, safety, and security. This mode of construction also grants you to make modifications in your home while or even after it is constructed. So there is really nothing to worry about if in case you need to add or change some parts of your modular home.
For more details on how to get the most of your modular home, contact Tidewater Custom Modular Homes.
---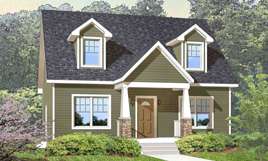 A lot of exterior options are made available and versatile to make your modular home a more beautiful and livable dwelling. The exterior is the first thing people see so it makes sense to put some careful thought into the options you choose.
Building a home is considered one of your biggest financial commitments in life so you want to make sure that everything in it complements the rest. As a result, you will have a wonderful experience the entire time you stay at home. While it is more convenient to make home modifications and additions in modular homes in Virginia Beach, VA, it is practical to really choose and create a design for your home which really works for your taste and lifestyle. This will make you save on both money and time that will be spent to add or modify a part of your home for more of your convenience and comfort.
Choosing the exterior design of your custom-built modular homes absolutely dictates how it sets itself apart from the other homes around you. So you want to customize your home such that it can have a front porch, unique exterior doors, or decorative roofing that homeowners like you desire and require. Because exterior aesthetics sometimes incur less cost on modular homes and offer far more options in designs, they have been a popular choice for many people in Virginia Beach.
Stand out from the crowd, in and out, in terms of aesthetics and functionality. For more details, contact Tidewater Custom Modular Homes.
---
You are probably dreaming of the day when you can retire and settle down when you grow old. Back then, it was just a dream for a lot of people to build their own vacation home but it does not have to be now. Vacation homes can be very affordable, thanks to modular home construction.
Making a house your home has been made even more convenient due the flexible modular floor plans that offer a wide array of options for customization. Among them, vacation style modular homes have been one of the fastest growing segment of modular construction. Using the standard specification of such floor plan, you can start designing and make alterations from there to make your dream vacation home standout.
With a less expensive and more efficient construction, take advantage of being able to completely customize your modular home in Williamsburg, VA. Each floor plan is like a set of lego pieces allowing you to rearrange rooms, add an entire second floor, or change other key features and fixtures. The mixing and matching of designs and other details all depend on you.
If you want to know what goes in to a successful vacation style floor plan for your modular home, call or visit the Tidewater Custom Modular Homes.
---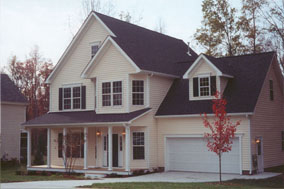 Custom-built modular homes in Williamsburg, VA allow you to build and own a home that shows your style and fit your lifestyle. These homes are a great reminder that you can have more options for less expense to really make a house a home that is uniquely yours.
Starting from one of the pre-existing modular floor plans can be a great way to plan your home because you can take advantage of being able to absolutely modify them. As changing any floor plan you find is the name of the game with modular home construction, each home style comes with it a set of standard specifications that are flexible enough to incorporate any feature, fixture, and all other essentials for your future new home.
The selection of homes such as Cape Cod homes, Cottage home designs, Estate homes, Ranch style homes, Traditional 2-story houses, Timberland series, and Vacation style homes are just made available to help you get started in designing and bringing your dream home to a reality. Modular home construction grants you with many choices to further customize preset configurations and layouts to really fit your lifestyle as well as your other requirements and preferences.
If you already have a plan or an idea in mind, the modular home builders of A Tidewater Custom Modular Homes can work with you to make it come to being.
---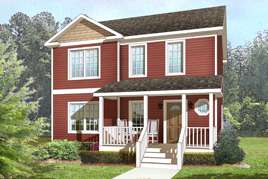 What makes
custom-built modular homes in Chesapeake, VA
cutting-edge is how they grant homeowners with great creative freedom. This is very noticeable with the level of flexibility that the home builders and manufacturers guarantee in the pre-existing modular floor plans.
There is a wide selection of homes available if you choose to build for yourself a modular home. Take a look at the traditional two-story modular homes, as an example. While the style may be traditional, the size is not. However, if you are planning to build a home in a location where the cost per square unit is quite pricey, a two-story modular floor plan is a cost-effective alternative for you. View the floor plan variations of the Apex, Boone, Hickory, Lenor, Logan, Madisonville, Raleigh, Salisbury, Warrenton, Westmore, or Windsor and choose which one you would like to be custom-built to maximize a limited land area.
There is nothing to worry about if you will end up choosing the same modular floor plan as the others. When you incorporate even only a minor amount of customization in its home design, it will look absolutely nothing like those built before yours. You are allowed to change any pre-existing plan you find to fit your current and changing needs.
If the cost of the land area is not your main concern, you can choose other floor plans from the existing selection of homes. Contact the experts at Tidewater Custom Modular Homes if you want to make a particular modular floor plan uniquely your own.
---
Custom-built modular homes in Virginia Beach, VA are the products of the efforts of home builders and manufacturers to provide such a virtual solution for the varied concerns of homeowners and households. Given that there is no home that cannot be built with modular construction, the question that remains is what you yourself would want to build and live in for the rest of your life with your loved ones.
If for instance you want to downsize due to some personal or practical reasons, building a vacation style modular home may be a great choice for you. Formerly known as the Low Country style, this home offers you with floor plans that you can custom design or conveniently modify. Such vacation series can serve as a primary residence or a weekend getaway that you and your family can enjoy all seasons.
It is beyond doubt that modular home floor plans offer options and choices that are virtually unlimited. Every floor plan leaves room to customize with respect to your personal preferences and specific requirements. While this modern mode of construction guarantee an economically-priced vacation style modular home, you are also given the opportunity to choose what floor plan to use and decide on its overall layout. You can select the style and size as well as the number of bedrooms and bathrooms to cater the changing needs of the household.
It is now more convenient and cost-effective to transform a particular modular floor plan into a home that you can claim as uniquely your own. For more details, contact the experts at Tidewater Custom Modular Homes.
---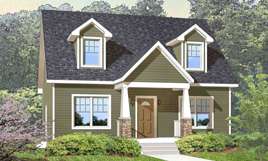 The most obvious of advantage of modular homes in Yorktown, VA is that they can be any type of floor plan. This means that while personal preferences and specific requirements may vary from person to person, everything is possible to be incorporated in one home. For this reason, it is a better option for first time homeowners.
Apart from a much lesser time of construction and a more convenient future modification, you will also benefit from a wide range of options to custom-design your dream home. Given such flexibility, you can even modify the modular floor plans to make it a reality what you have just imagined your house would be. It is also alright if you have not yet thought of a particular design as the selection of homes are made available to help you make up your mind. All you will see are very beautiful model of modular homes that are significantly lower in cost but legitimately high in quality.
As a first time buyer, it is ideal that you have a great representation and someone who is equipped in working with first time buyers. This is because you will have lots of questions and suggestions as you go through the process of planning and construction of your own custom-built modular home. You want to have someone who will take the time to listen to your concerns and show you everything you have to know and consider about such undertaking.
To talk with a safe and refutable home builder, contact Tidewater Custom Modular Homes.
---
All the details from the interior design to the exterior design of your dream home can be achieved if you choose to live in one of the modular homes in Williamsburg, VA. Just like site-built homes, they meet specific guidelines and building codes to ensure a safe and satisfactory living area.
Given that preferences and requirements vary from homeowner to homeowner, there are a selection of modular homes prepared for you to choose from and customize for a fair price. You can always customize your home such that it not only considers all current factors that matter to you and your family but also all the future aspects that can affect your living experience. This is to ensure that you are building a home inclined to your benefits so that you are not going to regret afterwards that you have built one.
With the availability and affordability of custom-built modular homes, it is now very possible to live without worry and love living in it with your loved ones. There is none a part included in your floor plan that you are going to regret. But just in case, you change your mind about something, home additions and alternations will not cause much inconvenience to you.
To have an idea of everything being told about custom-built modular homes in Williamsburg, you are always free to contact and consult the homebuilders of Tidewater Custom Modular Homes.
---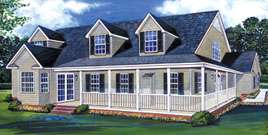 In Chesapeake, modular homes not only comply with local rules and regulations regarding home construction, but also conform to the varying preference and specific requirements of interested homeowners. To ensure overall quality and safety, these sectional prefabricated structures are systematically inspected by a production line supervisor, an independent third party inspector, and a local building inspector before you take occupancy.
Custom-built modular homes come in several styles and sizes. They consist of multiple modules that enable unique customization of many home styles. Given this, homeowners are able to take advantage of the flexible modular floor plans in which you can choose what features and fixtures to include. While they are prefabricated in a controlled environment inside the factory, these homes are still considered a permanent structure and real property.
Modular homes in Chesapeake, VA have no real design limitations. In fact, they can be designed and built for future expansion. Any floor plan that is close to the style you like can be modified in many different ways and elevations. The only limitation is what you are able to conceptualize for your specific requirements.
Building exceptional homes for the distinct interests and needs of homeowners is possible at Tidewater Custom Modular Homes.
---
Modular homes in Yorktown, VA now provide more flexible options for both the interior and exterior of your dream home. Back in the day, people had a common notion that modular homes are created with inferior quality. But after a creative exploration of the potentials of modular home building with respect to aesthetics and functionality, this notion shifted and modular homes have become more widely accepted in mainstream home building.
It is now possible to build your dream home with anything you want sooner and with lesser expense. If you choose to go modular, yours will be a custom-built modular homes that is a lot more durable and beautiful as compared to traditionally built houses. This only means that while you enjoy the flexibility of the floor plans, you are also get the best value for your money.
Another advantage of choosing a modular home is that you can make any changes you want, whether before, during, or after construction. Home additions or modifications can be done conveniently and cost-effectively. With both aesthetics and functionality in mind, making it your own and making it stand out from the rest will never be a problem.
Whether you have a perfect picture of how your dream home would look like when the construction is done, it is important that you consult the bright minds behind Tidewater Custom Modular Homes.
---