Modular Homes VA Blog
Here is an example of the elegance you can expect in your future modular home master bath. Of course this is just one of many exceptionally build master bath's that are being built in the modular homes we deliver in and around Smithfield. You can get a broader exposure to our modular bath constructs by visiting our gallery page.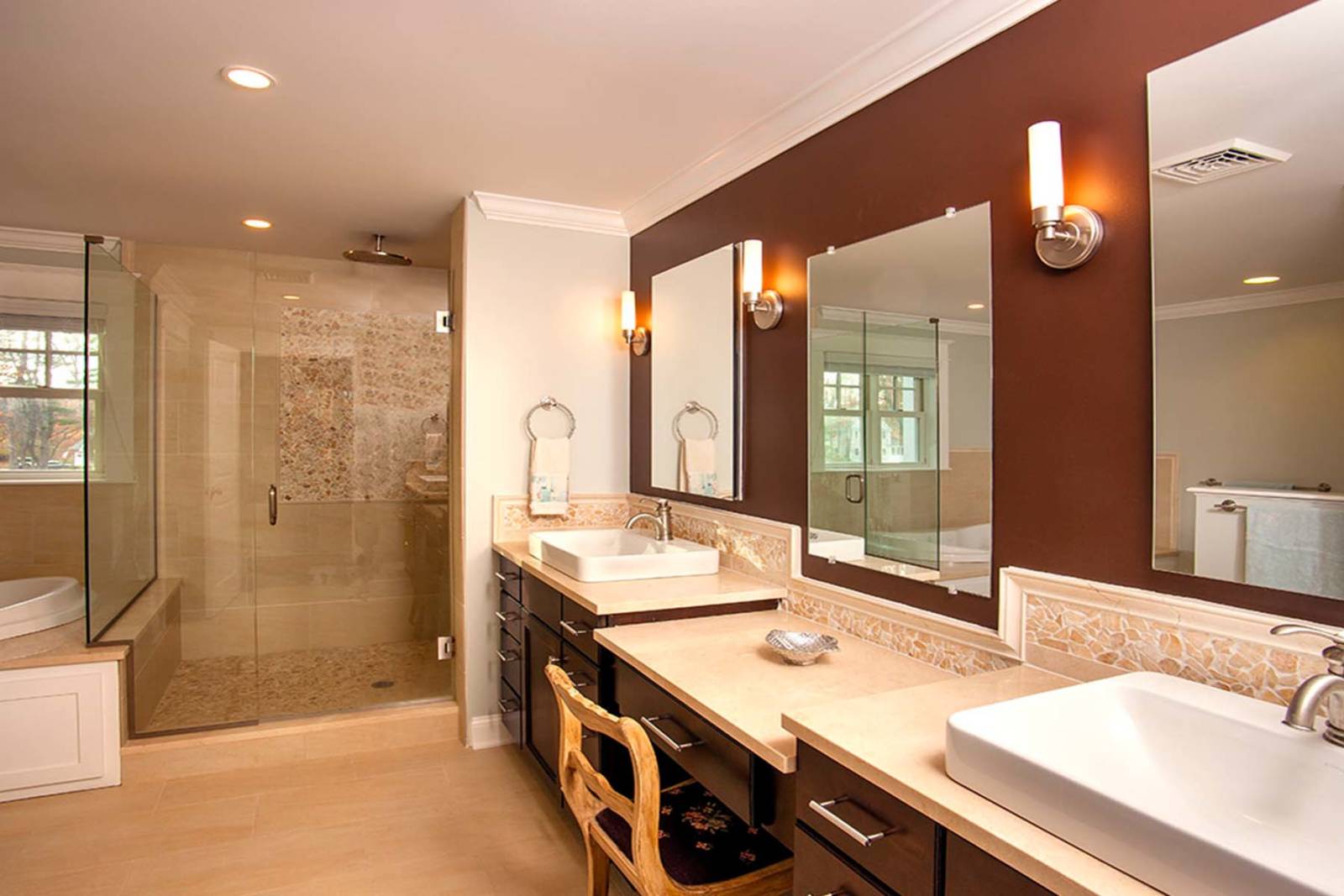 This example features an executive series shower and tub combination with glass. Note the ceramic walls, tub decks and whirlpool platform tub. The dual square vessel basin sinks combined with satin faucets add true elegance to this master bath. We accented this bathroom with large vanity mirrors with beautifully crafted flat panel maple cabinets.
Beautifully functional vanity lighting fixtures were strategically incorporated with a frosty white shade to enhance targeted light to the seating area in front of the mirror. This is but one example of how we consult with our clients to determine personal tastes and desires and then deliver upon that requirement. For more information about modular home construction in and around Smithfield, contact Smithfield-based Tidewater Custom Modular Homes.
---
We thought we'd focus the next few blog posts by displaying examples of the luxury living solutions that we deliver throughout Virginia Beach, and the entire greater Hampton Roads Virginia area. Here's a stunning picture of a customer's modular home who designed their custom modular home around their kitchen. As so many new home buyers do, this home design started with the kitchen then the rest of the house built around it. We can certainly see why.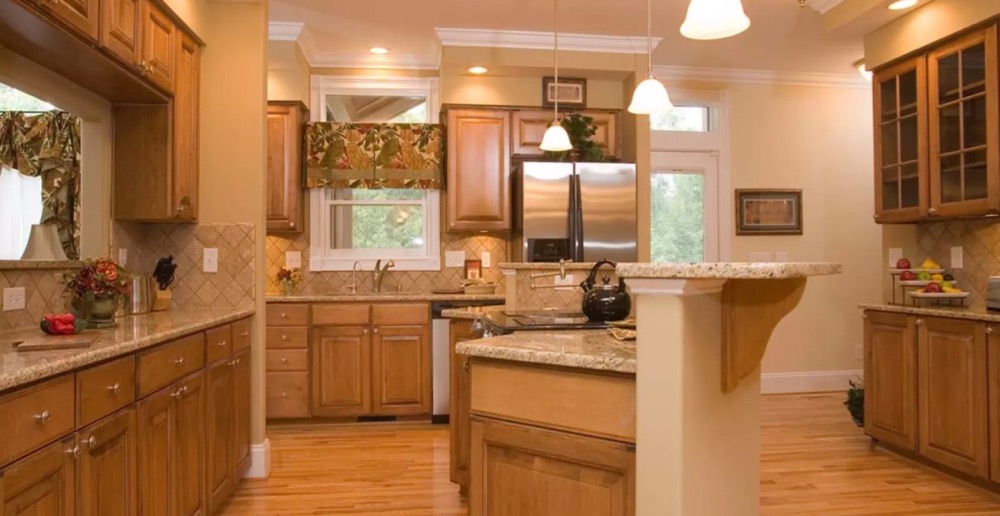 Look closely. Can you spot the differences between this modular home's kitchen from that of a traditional "stick-built" kitchen. No? Well that makes perfect sense because the feature that make modular construction superior to stick-built construction are invisible to the naked eye. The modular home construction's structural integrity if far superior to stick-built construction. But let's get back on point here in discussing this particular kitchen.
This kitchen's fixtures and accessories were sourced from industry-leading product designers and made from premium-grade materials. Like traditional kitchens, this particular modular kitchen incorporates the features that we incorporate across our modular home kitchen portfolio. Based upon the buyer's desires, they are most often equipped with raised-bar granite countertops, stainless steel appliances, custom crafted cupboards, overhead cabinets with glass doors, and under cabinet lighting. In this example, take note of the stylish valence above the kitchen sink between overhead cabinets. Check out the clever use of downlighting from the ceiling. This modular kitchen is stunningly elegant and it can be built for you right here in Virginia Beach!
See one or two things that you would do differently here? That makes sense to us as well as no two buyer's requirements are exactly the same. Let's go to work modifying this kitchen to your specific wants and needs. The point here is that there is a reason why the word "custom" is embedded within our business' name. We build custom modular homes specifically designed to meet each and every element of your discerning need.
For more information about how a custom modular home just might be the perfect choice for you, contact Tidewater Custom Modular Homes.
---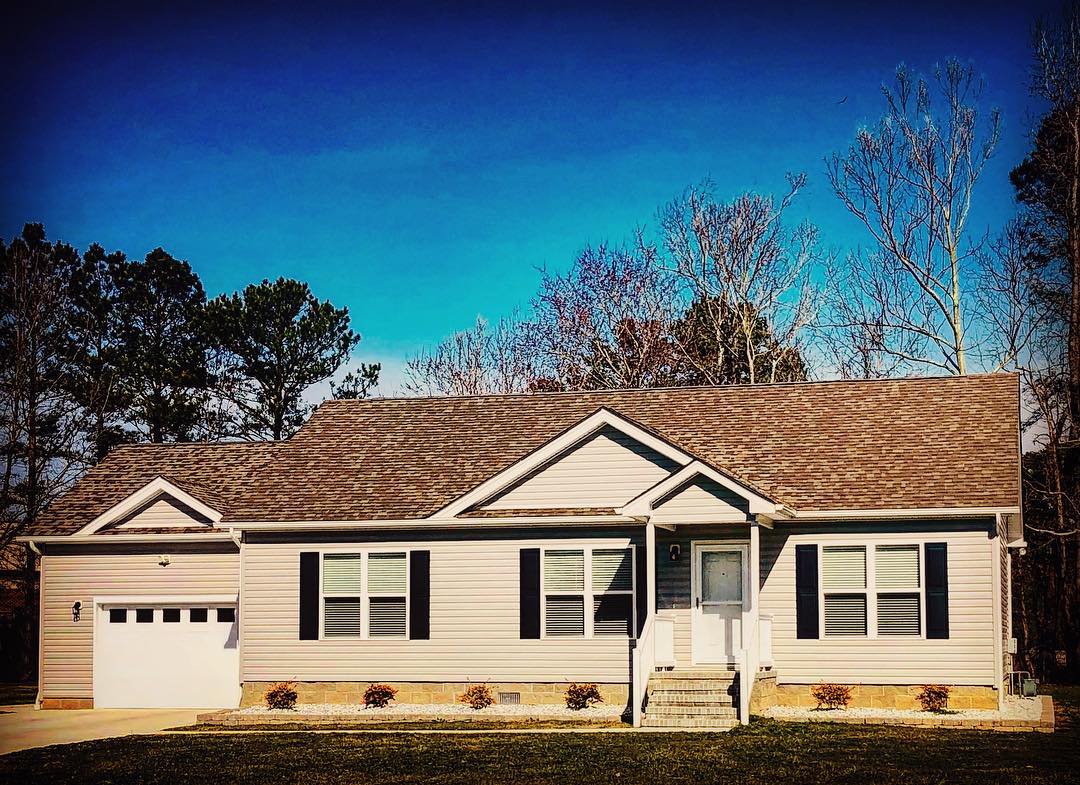 Millions of people like you are searching for their perfect dream home. Many of you are worried about where to start the search with so many different types, sizes, and styles of houses to choose from. A modular home design is the perfect place to start. The overall quality and value modular home construction drives their continued rise in popularity. With the modern living trend, people are looking for home designs that are contemporary in nature and modular home delivers on that front.
The modular homes that we build in Charles City VA hold or appreciate in value as or more effectively than their stick-built counterparts. Many people consider modular home investment because they are physically stronger structures. In addition to structural strength, buyers love modular homes because they are completely customizable. You could create the customized design that you seek just as you would with the stick-built home building process.
For more tips on modular homes, contact Tidewater Custom Modular Homes.
---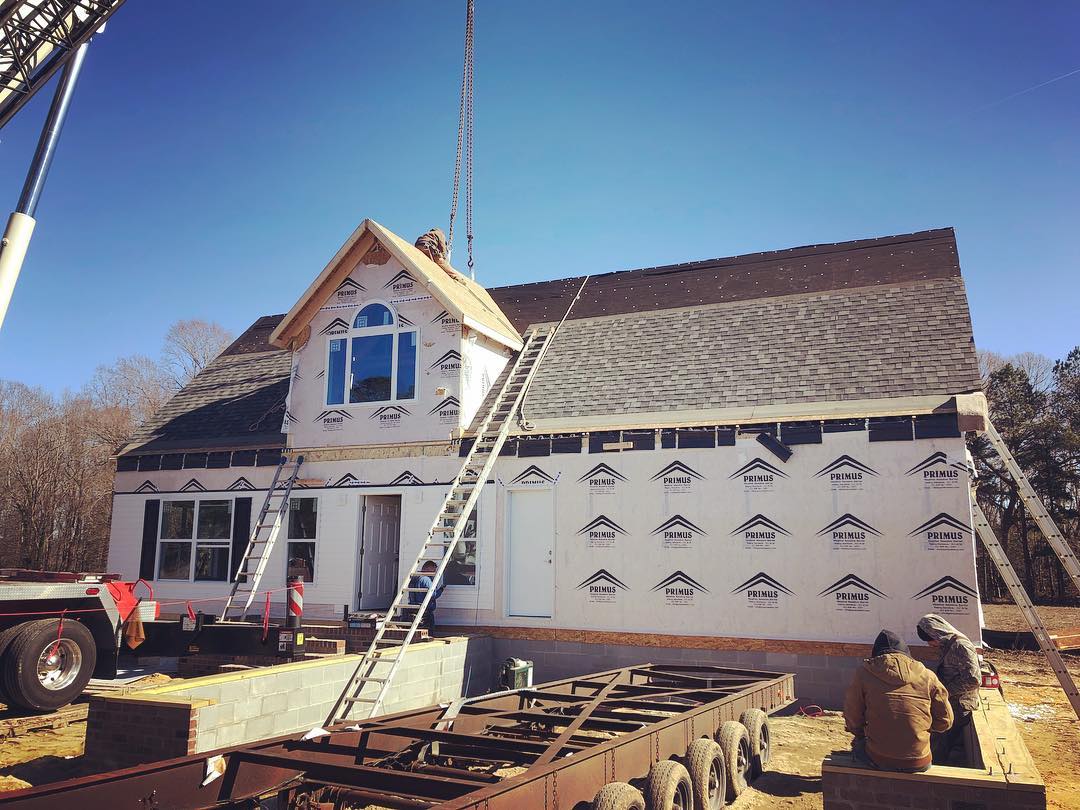 Building your next home does not have to be a stressful activity. So many people have heard the horror stories of others about building a home from scratch. But you won't hear those horror stories from those who chose modular home construction. There are many reasons for this, but the most prevalent reason is the precision of construction offered by the modular home industries' reliance on computer precision versus the traditional home industry's reliance on craftsmen with a wide range of experience and skill. We help people in Norfolk and across the entire Tidewater achieve the dream of owning a new home. We offer simply the best overall value per square foot for your home-buying dollar.
One of the most common complaints of traditional home building construction is the extensive time required to construct the home. Our building process involves the use of an indoor factory to construct the foundational elements of your home. Weather does not threaten the delay the home building process in large measure. Weather very much factors into traditional home construction.
Cost overruns are common with traditional home construction but cost overruns are extremely rare within the modular home construction process. With such a wide selection of modular home offerings here in Norfolk, there is rarely a need to make architectural design adjustments during the build process. We're here to help you get it right from the start and we're happy to take all the time necessary to help you achieve that end.
We help people in Norfolk and across the entire Tidewater achieve the dream of owning a new home. We offer simply the best overall value per square foot for your home buying dollar.
For more tips on modular homes, contact Tidewater Custom Modular Homes.
---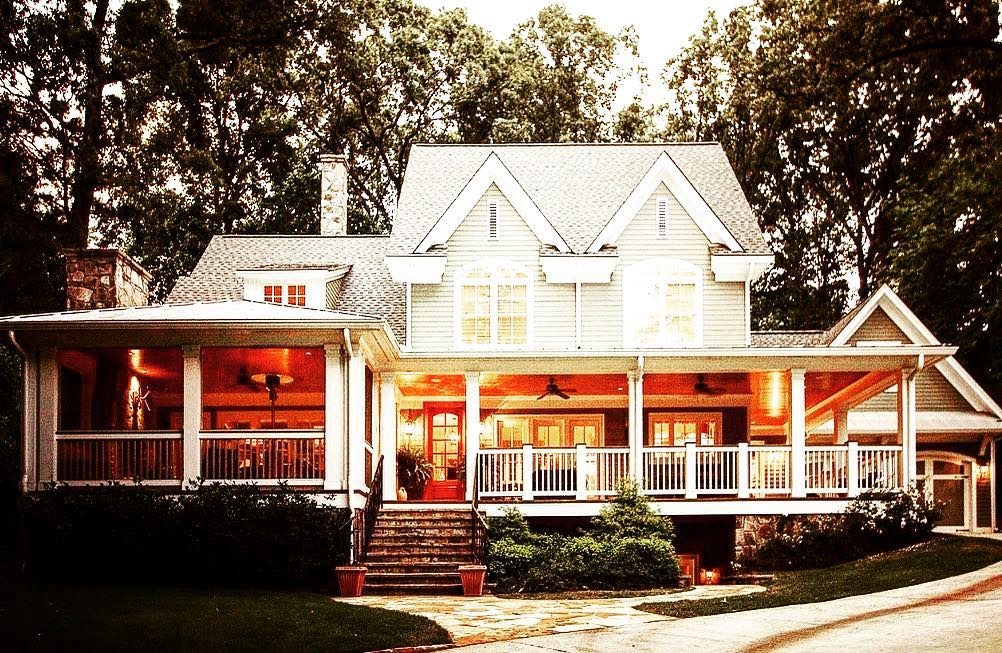 Modular home construction provides comfort, efficiency, and the best overall value for your homebuilding dollar. They are customized according to your taste, style, personality, budget, and way of living. We find that most people simply need to see them to believe them. The perfection of materials, computer aided cuts, bolts vs the nails of traditional stick-built homes, and fully customizable end products are difficult for most people to envision. We are proud to enlighten the public each and every day on the huge benefits of owning modular construction.
During the planning stage, it gives you the option to select a model and choose from several preferences. Soon thereafter a dream house is built and ready for you to occupy. You select the model, the customized changes that perfectly match your style and needs, then we do the rest. Speed of construction is always a valued function of modular construction, but it is hardly the most important. Price per square foot is usually less and cost overruns that are so common within the stick-built home industry is all but eliminated within ours. This means budgeting for your home is much easier.
Waste within the modular construction process is all but eliminated as computer-assisted manufacturing largely eliminates the common mistakes of the stick-built home builder. Modular homes are built inside an enclosed facility that meticulously sorts and recycles leftover materials. Modular buildouts continue throughout periods of bad weather as a sizable amount of the construction process occurs within our factory. While stick-builders shut down, we press on. Modular home construction here in Virginia Beach, VA are a natural fit for your needs, budget, and tastes. Again, allow us the privilege of demonstrating to you personally the benefits of modular home construction. Contact Tidewater Custom Modular Homes today.
---
Modular homes are the present and the future of American residential and commercial construction. The core reason to choose modular home construction? Everything is tailor made according to your taste and lifestyle. Modular construction is less expensive and quicker to build as compared to traditional construction methods. They also bring s long list of other benefits as well.
1. Use Less Energy
Nearly 90 percent of the construction of a modular building takes place off-site, hence the term prefabricated buildings. With this approach, there is significantly less disturbance to the environment surrounding the construction site. Not only is the actual construction of the building green, but the long-term running of the building also works out to be quite sustainable. Modular construction reduces energy consumption during the building process and it also reduces energy costs for its occupants.
2. Recycled Materials
Technology has made it possible for us to recycle almost anything. Modular buildings are constructed with recycled (and recyclable) materials for the most part. Recycled steel, recycled wood and even recycled glass are a large part of what makes up a modular building. All these parts can certainly be reused over and over again without seeing much wear and tear.
3. Modular Buildings are Recyclable Buildings
Modular buildings are called portable buildings for a reason. They will be transported from one place to another without having to go through the process of demolition. The term modular comes from the fact that these buildings are built one module (or unit) at a time and are then assembled on site. So, it stands to reason that they will also be dismantled. This makes it very easy to take down the building without disturbing the surrounding environment with dust, debris and other unwanted pollutants.
It will be our absolute pleasure to customize your home. With modular homes, architecture should speak of its time and place, but yearn for timelessness.
For more tips on modular homes, contact Tidewater Modular Homes.
Source: constructionglobal.com
---
Modular construction popularity is revolutionizing the home-building industry. These homes save buyers money and deliver a higher quality home. In every category, modular homes are superior to stick-built homes. They cannot be visually distinguished by the untrained eye from their traditionally built counterparts. It is the modern solution to your dream house dream more in savings and less in budget. There is practically nothing you cannot do with a modular home. Modern modular homes will take on the appearance of a traditional home or can assume the look and style of today's most contemporary structure.
Our modular construction process starts in a state-of-the-art manufacturing facility, so the homes will be produced to be much tighter than those built on-site. In fact, our homes routinely operate more efficiently than a conventional site-built home. With the drywall, flooring, cabinetry, plumbing, and electrical completed in a quality controlled, weather tight environment, the modular construction process provides a custom home within stringent manufactured tolerances.
Choosing the right builder to provide your new home is one of the most important decisions you will make in the home buying process. We deliver beautiful homes, supports innovative home design, and delivers safe and healthy homes for our clients. Our modular homes will be one-of-a-kind creations that offers an even greater range of design choices than most traditional builders.
Our team of modular home building experts are the most knowledgeable you will find when it comes to modular construction. During the design stage for your home you will have a wide range of choices to make as you create a truly unique home. Given the variety of choices involved, it is not unusual for custom home buyers to experience some emotional ups and downs during the process, more than a new home buyer that is building a production home may experience in their new home journey.
Knowing what to expect at each stage comes from strong communication. Just knowing what choices you will have to make, and when, will go a long way toward making your custom home building process smooth and produce the home you have always dreamed about. We pride ourselves on being the custom home builder that has the answers when you need them most.
Modular homes are models of efficiency and quality assurance. Our commitment to excellence begins at the design phase. From there our computer-assisted design technology assists us in customizing your floor plans and producing specification sheets to your exact requirements. We give you the options you need! Whether you are looking for a larger family home or you want to downsize, we have a floor plan that fits your lifestyle. Then, once all designs have been finalized, the building process begins.
Overall, modular construction offers you the design flexibility and customization opportunities at a price that is difficult to beat. This coupled with the quality of the manufacturing process that is protected from the weather and the speed of construction makes for a winning combination. Make your new home a modular home, it just makes sense!
For more tips on modular homes, contact Tidewater Custom Modular Homes.
---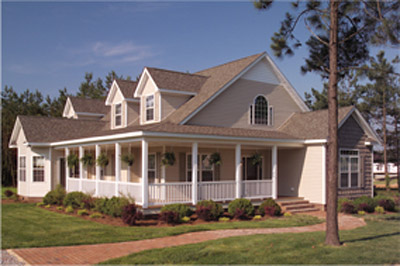 Modular homes are rising in popularity and for good reason too. Here is everything you need to know about the modular home. In the rapidly changing housing market and with the rise of new technologies like 3D printing, future homeowners are rethinking what defines a home, while builders are rapidly changing their approach to the ways homes are built. Another one of these technologies is the modular home.
A modular home is a house that is built off-site from the expected location of the building and that is delivered to that location after it has been completed. Slowly moving their way into the forefront of home construction, a modular home could be in your future.
One of the first advantage points when discussing a modular home is how quickly the process will be completed. Compared to some of the other construction methods you may find around the world, a modular home will be completed in just a matter of weeks. With no need to worry about unpredictable weather or estate problems, these are some of the fastest homes you will own.
Aside from the impressive savings, another major appeal of owning a modular home centers around the building's customizability. Most modular homes in Norfolk, VA have very little design limitations, allowing builders and customers to come in and create the house of your dreams without all the fuss and stress regularly associated with bespoke homes. The factory-like process allows you to add almost any feature or amenity that you can think of, all without breaking the bank. Whether you want something large and roomy or small and cozy, modular homes will be tailored to your specific needs and family size.
Builders are able to ensure that the materials used on your home are environmentally safe and sustainable. Being eco-friendly is the topmost characteristic of modular homes. Even more so, homes will be designed to minimize their environmental impact on the surrounding area.
We have established a reputation for building quality manufactured homes, modular homes and mobile homes affordable to a wide array of homebuyers. Whether you are a first-time homebuyer, part of a growing family or an active senior, our award-winning designs and customizable floor plans are the perfect complement to your lifestyle.
For more tips on modular homes, contact Tidewater Custom Modular Homes.
---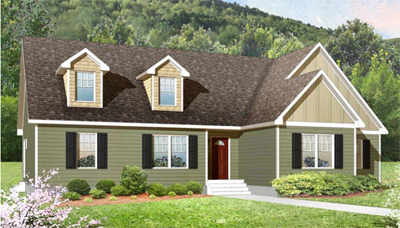 If you can dream it, we can build it! We welcome custom designs that many home buyers associate with traditional on-site construction. Begin with a standard plan or a sketch of your favorite home design. From there, you will incorporate the right size of your needs and budget. And we will work with you on building the custom ranch home of your dreams.
There are many amenities you can choose from, including hardwood or ceramic floors, granite counter tops, custom cabinetry and modern kitchens. These options will make your custom modular ranch home the perfect match to your budget and tastes. A traditional or modern look can be adapted to your custom ranch home depending on your preferences.
More benefits living in the modular ranch houses are strength and durability. In addition to requiring less time to complete, modular ranch homes are also stronger and more durable. They are constructed using name brand quality materials and modern construction techniques. If you are living in a location prone to hurricanes, tornadoes and earthquakes, the strength of modular ranch homes will work to your advantage.
All modular components are built in our factory to the highest standards of quality. We built in an eco-friendly controlled indoor environment to eliminate the possibility of mold or dust accumulation during the construction process. Using modular components, the construction timeline is minimized, reducing environmental impact.
Our modern designs incorporate energy-saving techniques aimed at keeping your heating and cooling bills significantly lower than traditional homes. Modular Ranch Homes are a popular choice with energy-efficient features, contemporary accents and the freedom to customize your home. Think of the design as useful starting point for your custom ranch dream home. It is easy to customize your home to better suit your unique lifestyle.
If you are looking to build a custom modular ranch home, we are your single-source solution. We work with trusted local contractors who speed up the construction process with meticulous attention to detail. Let us help you take the next step to build the modular ranch home of your dreams.
In a nutshell, the custom modular ranch homes we built are stronger and more durable using higher quality materials. It is energy efficient and the construction process is environmentally friendly. It is built to the same building codes as site built homes. And as well-built faster which saves you money on your construction loan. And to top it all, it is a great investment, saving you time and money without sacrificing quality.
For more tips on custom ranch homes, contact Tidewater Custom Modular Homes.
---
So we had yet another little hurricane scare recently as Dorian destroyed the Bahamas and some forecasts had it taking aim at Hampton Roads and Charles City. As we all know, hurricanes are the most expensive natural disasters in the US. Many of our southerly neighbors were displaced after Dorian and such disasters should give us pause about whether our homes are ready to stand up to these weather tests. With modular home construction you can be assured that your home is significantly more sturdy than your traditional "stick-built" neighbors. They are built to the same codes and regulations as a site built homes, but one of the big difference is modular home frames are bolted together as opposed to stick-built homes being nailed together. According to the Federal Emergency Management Agency (FEMA), modular homes stand up as well or better than, traditionally built homes.
People sometimes confuse mobile homes with modular homes. They is simply no relationship between the two. Once educated on the difference, they come to realize that modular homes are the preferred option for those living in areas that are prone to flooding, high winds and other elements of storms. Modular homes receive praise for their superior workmanship.
Very simply put, modular homes in Charles City, VA have weathered the storms best for decades. There is tangible evidence that modular homes are the best option when it comes to preventing damage from hurricanes. When hurricane Andrew accounted for more than billions in damages, the modular housing developments, in general, had minimal structural damage.
Safety is a major advantage of modular homes, but there are others as well. They offer plenty of design flexibility, and they can be built in about a third of the time needed to construct a site-built home. Other advantages include increased energy efficiency and lower air infiltration, which helps manage heat loss in the home.
In order to ensure the quality and workmanship, modular homes are inspected during every step of the manufacturing process in addition to the usual state and local inspections. As compared to a site-built homes, there is only one inspection once the home is completed. It was concluded that the inherently rigid system of modular homes lead to much safer structures.
The sturdiness of modular homes helps them hold up against the rain, wind and hail that can come with super storms such as a hurricane. Often overlooked benefit of modular homes is their ability to stand up to flooding, which will occur no matter where in the country you live. Flooding is one of those things many people do not think about until it is too late. Living in a modular home will give you peace of mind, in that, should a flooding situation occur, your damage will be minimal compared to many site-built homes.
For more tips on modular homes, contact Tidewater Custom Modular Homes.
---