Custom Modular Estate Homes Construction – Value-Based Luxury Living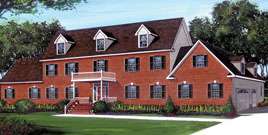 Estate homes perfectly symbolize the American dream. This is what you imagine when you picture your dream home. Many desire estate home-style living but view them as mansion-like domiciles that are way out of budget. We're here today to dispel that erroneous thought.
Modular home construction offers a budget-friendly solution for those who are interested in owning an estate home. Modular construction in Richmond, VA showcases several modular estate home designs that closely resemble estate homes of the past but acquired at a fraction of the price. Apart from this, modular estates concentrate on functionality and comfort as contrary to elaborate rooms which are hardly utilized. Still, its exquisite dining space and formal receiving areas are retained but emphasizes more on the vast kitchen room with more on casual seating.
Modular Estate-Style Homes also hallmarks modern bedrooms with master suites and spacious bathrooms usually located at the main floor. Walk-in closets, large entertainment rooms and elegant staircases are still its distinguishing features. With modular construction, you can acquire an estate home in a fraction of the price without compensating the quality of the materials and craftsmanship.
To learn more about modular estate homes, contact Tidewater Custom Modular Homes.