The Chapel Hill Ranch Style Modular Floor Plan: The Epitome of Simplicity and Beauty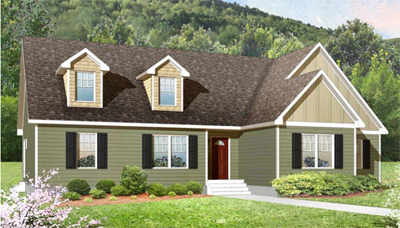 Choosing a new home is an exciting experience for any family; but it can also be challenging. You want to be sure that the home you choose is the right style and layout for your lifestyle and budget. When selecting a new home, families have to many things to consider and every family has different needs, wants, and budgets. If you and your family prefer a simple yet attractive ranch style modular home in Smithfield, VA, then take a look at the Chapel Hill ranch style modular floor plan.
The Chapel Hill ranch style modular floor plan is built with modular home construction. This means the home is built faster than with traditional construction. The modules that make up the home are factory-constructed and delivered to the permanent site for assembly and finishing touches.
Looking inside the Chapel Hill Ranch style modular floor plan, the living wing is on one side and the sleeping wing is on the other. There are three bedrooms; the master bedroom has a walk-in closet and huge full-bath. There is an additional full bath for the two other bedrooms as well. The huge living room sits in the center of the home, across from the dining room. The kitchen and utility rooms are located in the back with another half-bath for guest use. All the components of this home are simple, and make this home a beautiful choice for homeowners.
To find out more about the Chapel Hill ranch style modular floor plan, contact Tidewater Custom Modular Homes.