The Black Stone – A Cape Cod Style Modular Home Floor Plan that is Perfect for a Lot that is not Plain – Virginia Beach, VA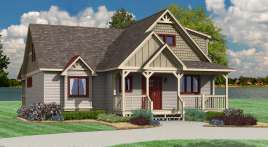 The Cape Cod style modular homes in Virginia Beach, VA are known for their pitched roof that often has dormers, but this is not the only defining feature you can see in a modular cape. In fact, there are now a new set of floor plans for the Cape Cod selection so that you will have more options to choose from and have a home that really reflects your taste. This only shows how the modular construction industry continues to improve in order to cater more concerns that are almost unique to every interested homeowner.
One of the newest Cape Cod floor plans available is The Blackstone. If you do not want to only have a simple pitched roof for your new home, you have the option to build multiple steep roof lines just like what you can see in this floor plan. You can also find a porch both at its front and rear view. Incorporating these features instantly add to the character of your home's exterior. You can find more ideas on how to make this floor plan aesthetically pleasing both inside and out.
The Blackstone Cape Cod style floor plan has a total living area of 2,121 sq. ft. A large portion is allocated for the great room. You can have 2 bedrooms upstairs which share a common bathroom. The bedroom adjacent to the great room at the first floor also has its own bathroom. There is a comfort room near the kitchen space and dining area for your convenience. There is also a basement alternative being offered making this Cape Cod floor plan a perfect choice if you have a lot that is not plain.
To find out more about The Blackstone and other Cape Code style modular floor plans, contact the Tidewater Custom Modular Homes