Sunroom: A Perfect Modular Home Addition for Spring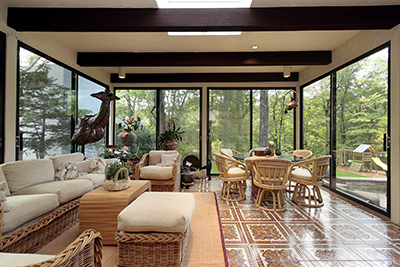 Nothing beats having a perfect room at home where you can enjoy the warmth of the sun and delight in the views of your yard and landscaping. Adding a sunroom addition to your modular home is a perfect way to welcome the spring and summer. With the fast-track procedure of modular home additions, your new sun lounge can be completed before spring gets into full-swing.
The beauty of a flexible modular floor plan is that it always has room for expansion with cost effective and faster built home additions. So the only limits to the design of your sunroom is with the available space of your plot. Modular additions are highly customizable to perfectly suit your home style and taste. Whether it's a space for your daily workout, playroom, home theater, or just a relaxing retreat; your sunroom will be your favorite spot in your home in no time.
Custom-built modular homes in Virginia Beach, VA make home additions possible. Any modifications can be done fast and cost effectively compared to conventional construction processes. Moreover, you can be sure your addition is built with supreme quality. So if you are thinking of adding a new sunroom to your home, contact Tidewater Custom Modular Homes.