Simple and Relaxing Linville Craftsman Cottage Style Home for Newly-Wed Professionals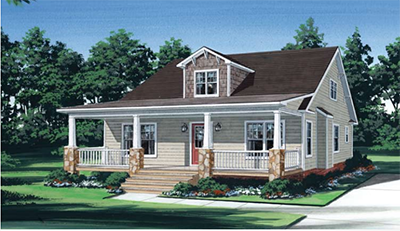 Building a new home in which to start a family is easy when you choose modular home construction. This is particularly true for busy, newly-wed professionals who may have little time to consider size and design requirements for their dream home. Modular home construction offers an easy and expansive selection of customized modular floor plans.
If you want to consider a simple, yet relaxing cottage style home in Suffolk, VA, then the Linville Craftsman Cottage style modular floor plan is just right for you. Thanks to the customized modular design, this single story house is endowed with sprawling space in the living and dining area and a second floor that can accommodate two or more optional bedrooms. There are 2 bedrooms on the first floor, where a large master suite is purposely isolated from the main living area for a peaceful retreat. Relaxation and enjoyment never feels confined in this simple and spacious home.
Materials used in the construction of modules undergo intensive quality control in the modular home factory. Unlike traditional construction, modular designs offer faster delivery and completion. The Linville Craftsman cottage style modular home is a simple but elegant option for married professionals with a busy lifestyle. For more on the cottage style modular floor plan contact, Tidewater Custom Modular Homes.