Modular Homes Can be Custom Designed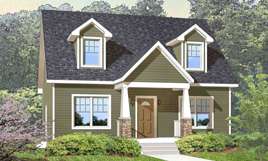 In the last few years, interest in modular homes has increased. Surprisingly there is still some confusion.

Modular homes often get confused with mobile homes. Mobile homes are smaller and are don't meet all of the same building codes as modular homes. Modular homes mimick stick built construction in quality and design.

Modular homes can be custom designed. You can choose from any style home: two story, cape, and ranch style homes. They can also be custom designed to your needs, add a beautiful deck, or vaulted ceilings.

There are standard floor plans available which can be changed or added to depending on your needs.

Tidewater Custom Modular Homes can help you custom design your new home. Modular homes can range in design from 1000 square feet to 4000 sq feet and up.

Contact Tidewater Custom Modular Homes for a custom designed newly built home.