Modular Homes Building Tips
Modular homes are all built in factories under controlled environments. Therefore, there are no weather issues to interfere with the building schedule or to damage building materials. Modular home floor plans can be customized in many respects to meet energy efficiency, accessibility and lifestyle needs.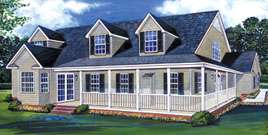 Modular homes (or factory-built homes) are pretty much the same as ones built on site.

Modular home building tips
When you begin your research, know the difference between modular homes and mobile homes. Today's "mobile homes" are called "manufactured homes."Modular homes" are built to state and local building codes.
Figure out if you want a custom modular home or if you can buy "off the rack" and use a factory standard.
Visit some modular home factories and learn about the construction and the quality controls.
Do your planning, Then do it again. You can't change later.
Better Homes and Gardens-Home Designer Suite software is great for planning — and inexpensive at $60.
Visit you modular home under construction at the factory
Set a realistic timetable tied to the payment schedule.
Shop around; there are many deals but, most importantly, be sure you are comparing apples to apples.
Get a builder that is familiar with your building jurisdiction because you still have local code issues.

Daily Press