Modular Homes are Green Homes
Architects, designers and home buyers are interested in creating and buying new, environmentally green homes. Green is chic, and modular homes are green. Their designs offer so much versatility and appeal that their popularity is on the rise. With new methods of construction and transportation, designers and builders are cutting waste and energy consumption, and cutting production costs while achieving greater methods of sustainability.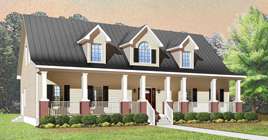 Modular Homes are built from modules that are assembled in a factory to exact specifications. Everything is cut with more exactness and everything is applied and assembled more accurately, saving time, materials and energy. These standards extend the life and cuts down on upkeep of the home over time. Modular home factories also produce less waste than onsite construction. Where modular home production generates around 2% waste, stick built homes generate 30-40%. Also, less time is spent constructing modular homes, so production costs are lower. Ultimately, modular homes allow eco-friendly construction at a fraction of the cost, to a larger consumer base.

Because modular homes are prefabricated, the modules allow you to design a home that will complement the space you are placing it on. You can change the design and make it fit the space rather than make the space fit the home; again saving energy and material costs.

For eco-friendly construction, and a customized, newly built home that is energy star qualified, contact Tidewater Modular Homes.