Modular Homes are Custom Homes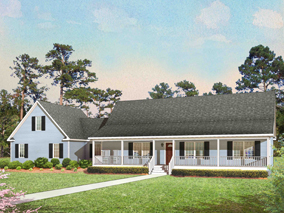 The name of our business is Tidewater Custom Modular Homes. Do you know why we included the word "Custom"? Because the homes we design and build for you are Custom Designed by you with the help of our designers and architects.

Often when people think modular homes, they think "cookie cutter homes". This could not be farther from the truth for us. We have, on staff, architects and designers who work with you to design FOR you the home YOU need.

Do you need a laundry room upstairs with the bedrooms? Do you want a mud room designed for your school age kids? Want a home office with built in shelving? We can do that. Tidewater Custom Modular Homes is a Custom modular home construction company.

You are not locked into any architectural design. We have standard floor plans and floor models if you'd like. But if you have ideas or even designs that you want to use for your modular home because you know that modular means: faster, more efficient and less expensive with higher standards; let us see your plans.

The professional satisfaction of building dream homes is what motivates us. Dream homes start with a basic plan and are then customized to turn that plan into a dream for your family. Contact us; we'll be glad to show you how we can surround that dream with the quality of a modular home.