Living in the Concord Cape Cod Style Modular Home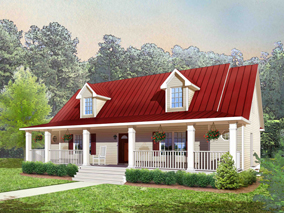 Cape Cod style homes are colossally popular throughout the country. Because of this popularity, Cape homes can be custom-built using modular home construction in Windsor, VA. There are several modular floor plans for Capes that are offered by Tidewater Custom Modular Homes, one of which is The Concord.
There are many things to appreciate in The Concord Cape Cod style modular floor plan. This 2059 sq. ft. modular home has two stories. The first floor is strategically divided into a formal dining room, an over-sized kitchen, great room, and a master suite with dedicated bathroom. There is another main bathroom on the first floor of the house located near the foyer which opens to the great room. This 'open-to-above' great room is a perfect place to spend quality time with loved ones.
Two more bedrooms and an additional full bath can also be found on the second floor of this Cape Cod style modular home. The second floor of this cape has optional 8' dormers with true radius window that allows natural light in. The dormers add to the aesthetic appeal of the cape, along with the on-site constructed porch.
To find out more about The Concord Cape Cod style modular floor plan, contact Tidewater Custom Modular Homes.