Henderson Two-story Modular Home Floor Plan Lets You Optimize the Indoor Space of A Home Built in A Limited Lot – Chesapeake, VA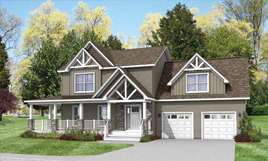 Modular home construction has evolved through time to give more options any homeowner could not resist. Now, it has even expanded its scope transforming traditional two-story modular floor plans in Chesapeake, VA into better homes that have modernized features just like what you can see in the Henderson Two-Story modular home.
If you want a 3-bedroom two-story home in a small permanent site such as a 1,602 sq. ft. lot, then the Henderson Two-Story modular home can be your best bet. You might wonder how the 3 bedrooms are fitted in a small lot. The indoor space of two-story modular home has been optimized in order to make spacious bedrooms upstairs, with one being relatively bigger than the other two. The largest bedroom has its own bathroom while the smaller bedrooms share a common bathroom. You can really see how the space has been utilized strategically in the second floor that it even is able to provide enough space for the linens as well as the washer and dryer space.
Modular home construction offers a wide array of options for customization along with the available selection of modular home floor plans. In the Henderson two story modular home, for instance, you can have a porch by Purchaser that adds beauty to the exterior of the home. You will also have a very large living room and still have enough space for the kitchen, dining area, and bathroom downstairs.
To find out more about the Henderson floorplan as well as other two-story modular home floor plans, contact Tidewater Custom Modular Homes.