Customized Modular Homes are Less Expensive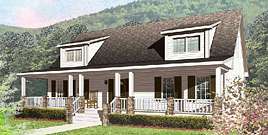 Are you in the market for a new home. If you live on a piece of land you really enjoy it, but want a new home, consider building a custom designed modular home.

Modular construction is a green and energy-saving form of construction when compared to typical stick-built.

Tidewater Custom Modular Homes recently built a custom modular home with loads of new home amenities. The house offers quartz counters, hardwood floors, a gas fireplace, ceramic tile floors in the baths with floor heater strips, a tankless hot water heater, energy-efficient heating and cooling systems and 50-year architectural shingles. Elevated front and rear screened porches offer scenic views.

The home is a three-story house with 2,700 square feet of modular-built living space on two floors.

The price per square foot was $110 which is significantly less money than a stick built custom home which can start around $125 per square foot and can easily reach $200 per square foot.

Contact Tidewater Custom Modular Homes, we can design a home on the spot, by modifying a standard plan or start from scratch.