Build Your New Home With Low Mortgage Rates and Modular Construction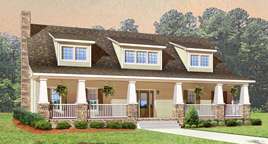 Mortgage rates are still at all time lows and right now they are the lowest they have been in eight months. If you have been contemplating building a new home, now is the time to do it.

Modular homes can be built with many different floor plans for those seeking to build their own home. For the budget conscious land owner modular construction is the perfect solution, and this is the perfect time to build. Low mortgage rates and a way to build a home which allows you to really manage your budget. Modular homes are more accommodating to your budget than traditional stick built homes; there are no hidden fees or unexpected costs. There are no weather delays or material issues. Because the modules are built to specific standards in a factory, there are no additional costs as a result of wrong measurements, bad cuts, or bad weather. Each piece of wood is cut precisely and assembled consistently inside a factory.

As the homeowner, you go into the project knowing what it will cost for the site work, the home construction and assembly process, and the landscaping; without "hidden fees" or rising costs due to unforeseen circumstances, your budget is sound as is your timeline to completion which is significantly less than with a traditionally built home.

If you have always dreamed of building a new home, with rates this low, do not just think about it, now is the time to make your dream come true. Contact Tidewater Custom Modular Homes.