What's Great about Cape Cod Modular Homes? – Yorktown, VA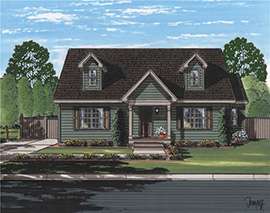 The cape cod style home has been around for years. And since it is one of the common styles that a lot of homeowners prefer, modular home construction deems it necessary to include it in the pre-designed floor plans being offered for interested buyers in the market today.
If you want to custom-build a Cape Cod style modular home in Yorktown, VA, you can make use of the available floor plans from Tidewater Custom Modular Homes. You will be able to choose among the pre-designed selection of homes to get started with the planning. With a wide array of options for customization, you will be able to custom-build a cape cod that is based on your specific requirements or preference. Or if you have enough creative juices, you can take inspiration from them and customize your own cape cod style floor plan together with our expert builders.
What is great about today's Cape Cod style modular home is the fact that it has not changed its main characteristics - a low, broad, single story frame with a moderately pitched gabled roof. However now, with the advanced building technologies available, the traditional cape can have modern features that make it more livable. Aside from it is more cost-effective to build, the cape cod style modular home can have amazing exterior and interior designs, improved by modern innovations while preserving the best parts of this traditional style of floor plan.
To find out more about cape cod style modular home construction, contact Tidewater Custom Modular Homes.