Traditional Two-Story Modular Homes can be Custom-Built To Maximize Limited Land Area - Chesapeake, VA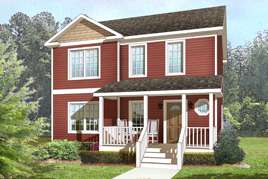 What makes
custom-built modular homes in Chesapeake, VA
cutting-edge is how they grant homeowners with great creative freedom. This is very noticeable with the level of flexibility that the home builders and manufacturers guarantee in the pre-existing modular floor plans.
There is a wide selection of homes available if you choose to build for yourself a modular home. Take a look at the traditional two-story modular homes, as an example. While the style may be traditional, the size is not. However, if you are planning to build a home in a location where the cost per square unit is quite pricey, a two-story modular floor plan is a cost-effective alternative for you. View the floor plan variations of the Apex, Boone, Hickory, Lenor, Logan, Madisonville, Raleigh, Salisbury, Warrenton, Westmore, or Windsor and choose which one you would like to be custom-built to maximize a limited land area.
There is nothing to worry about if you will end up choosing the same modular floor plan as the others. When you incorporate even only a minor amount of customization in its home design, it will look absolutely nothing like those built before yours. You are allowed to change any pre-existing plan you find to fit your current and changing needs.
If the cost of the land area is not your main concern, you can choose other floor plans from the existing selection of homes. Contact the experts at Tidewater Custom Modular Homes if you want to make a particular modular floor plan uniquely your own.