Traditional Two-Story Modular Home Where Relaxation and Comfort are NOT Compromised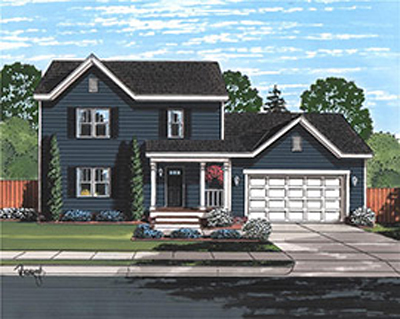 Traditional Two-Story modular floor plans in Hampton Roads, VA appeal to interested homebuyers who prefer to have a second story, away from the noise and activities downstairs. Take for example, The Sage I, where all the bedrooms are located upstairs.
The Sage I Traditional Two-Story home has three bedrooms, all found on the second floor. It has a master suite with a dedicated bathroom. The other two bedrooms share a common bathroom which is located at the top of the stairs. For homeowners who want to relax without the noise from downstairs, the Sage I is a great choice in two story homes where relaxation and comfort are not compromised.
Modular home construction makes it possible to maximize the indoor space. In the 1,640 sq. ft. Sage I two story home there is a room for everything. In addition to the strategically located bedrooms and bathrooms upstairs, the Sage I also showcases a large living room with direct access to the kitchen and dining space. There also a smaller bathroom next to the dining area.
To find out more about The Sage I and other traditional two-story modular floor plans, contact Tidewater Custom Modular Homes.