Timberland Series of Modular Homes Provides Standard Floor Plans that can be Customized to Fulfill Your Family's Needs - Williamsburg, VA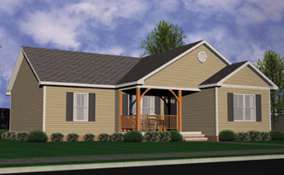 The Timberland Series of modular homes in Williamsburg, VA is designed with much consideration for those with a limited lot size. So whether you plan to have a single story home or not, you can choose from such series and further customize it based on your specific requirements.
With the never-ending technological advancements in modular home construction, the Timberland Series can allow the upper level to be completed and fully-furnished when an additional living space is needed, like in the case of a growing family. This only means that you do not have to decide directly if you want a second floor or not. Even after your modular home is built on its permanent site, it is still possible and convenient to add more bedrooms as well as bathrooms upstairs. The floor plan is very flexible that you can also have an attic, a basement, or a porch for a bonus living area which can serve as a place for gathering, entertainment, relaxation, or even for some serious business.
Just like other modular floor plans, the Timberland Series provides a wide array for customization which can all be accomplished for an affordable price and in a shorter period. This selection of modular homes uses hand hewn timbers making your home stand out more from the crowd.
To find out more about how you can make a standard modular home floor plan uniquely your own, contact the Tidewater Custom Modular Homes.