Timberland 1: A Perfect Starter Home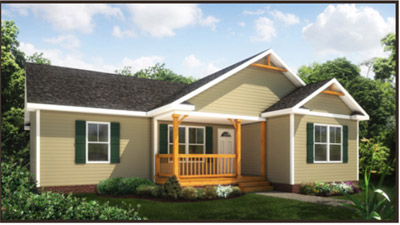 Starter homes can now be efficiently built with Tidewater Modular Homes' Timberland 1 modular floor plan. As a starter home, it has everything a family needs in single story living. Young home buyers who would like to invest in a newly built home should consider this home design as both affordable and a home that will hold it value for sale in the future. For retiring professionals on the other hand, the simplicity in this home makes it an ideal house for downsizing.
This ranch style modular home in Charles City, VA can be customized in ways that fit any homebuyer's requiremenst. An optional dining room can be reconfigured into a family room for growing families and a large eat-in kitchen can accommodate the dining space at the same time. A master suite complete with walk-in closets and resort bathroomt is strategically separated from the living area for a peaceful retreat. Further, the wooden porch outside offers vacation style relaxation at reasonable construction costs.
Modular home construction has made modern, gorgeous housing available to almost anyone. The current inflation of real-estate prices has not hindered homebuyers to consider modular home designs. Since modules are constructed off-site simultaneous work is done at the permanent site, making for faster completion time with savings on labor and material. Low-cost, quality options for a faster turn-around are just few of thef reasons why homebuyers are convinced that a modular home is the best way to homeownership. For more about modular home designs, contact Tidewater Custom Modular Homes.