Tidewater Custom Modular Homes: Making a Stylish Home for Just an Affordable Rate Become a Reality- Williamsburg, VA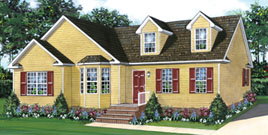 The selective stylish and flexible modular floor plans move many design enthusiasts switch to modular homes to face and end the dilemma of choosing between alternatives which are almost alike. You can definitely make a statement and be stylish with your modular homes for less cost.
Nothing beats the price of modular homes in Williamsburg, VA when it comes to modern design with a significantly low building cost. But this does not mean that they are built with low quality. High quality materials are used to build these houses. They are just cheaper because the materials are bought in bulk. Plus, they are stored in a highly controlled environment, so no damage can jeopardize their quality while waiting for their turn to be used for construction.
What makes custom-built modular homes more convenient to excited homeowners is that they have a faster turnaround time. After you have defined the cutting-edge design you want for your modular home, the floor plan is then built in divided sections. They are then shipped in modules to the destination of choice where the final set-up and construction occur.
Tidewater Custom Modular Homes have become an increasing trend in housing projects. As more people gets interested to this modern mode of home construction, more and more options are being developed and that are made available at a continued affordable expense.