The Wake Forest – Two-Car Garage Modular Home – Isle of Wight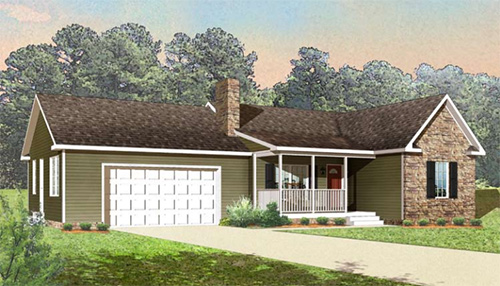 Modular home construction is completely customizable. With the vast array of floor plans that serve merely as your starting point, from their you customize to your heart's content on the way to the dream home you've had in your mind for some time now.
One of the most common floor plans that homeowners choose here in Isle of Wight county is the Wake Forrest Ranch style modular home. This modular floor plan is known for its single-story structure and other simplistic features that can still make the house stand out from the rest. More options are now available so that you can have an open floor or unfinished second floor already incorporated when you first build your modular home. If you ever need more space for an additional bedroom or living area for your family, it will then be more convenient to modify your ranch by then.
Among the individualized Ranch style modular floor plans being offered to homeowners, The Wake Forest has grown increasingly in demand because of its optional two-car garage. So if in case your family owns two cars, then this modular floor plan can be your best bet. In this ranch, you can have 3 beds and 2 baths strategically allocated to a 997 sq. ft. lot. The living room that is situated at the heart of the home provides easy access to the kitchen and dining area as well as to the other parts of your modular home.
To find out more details about The Wake Forest along with the rest of the Ranch style modular floor plans, contact Tidewater Custom Modular Homes.