The Sage I Traditional Two-Story Modular Home – How You can Save on Cost When You Choose This Floor Plan – Windsor, VA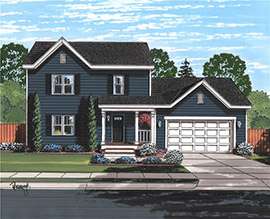 Modular home construction uses advanced building technologies that allow this flourishing sector of the construction industry to expand on its scope. Now, even traditional two-story homes can be achieved without the traditional way of spending more time and money just to get things done.
One of the existing floor plans falling under this category is the Sage I Traditional Two-Story home in Windsor, VA. Among the numerous potential reasons to choose this two-story modular floor plan for your next dream project, cost savings is said to be the most obvious.
Building The Sage I traditional Two-Story modular home can be significantly more cost-effective than building a ranch of the same size. That is mainly due to the reduced size of the foundation and the roof structure. The cost for basement floor is lowered just by reducing the size of the foundation. Aside from that, the framing required for the roof as well as the beams, rafters, sheathing, and trusses are minimized including the actual roofing material and the corresponding labor to install it. So if you go from a ranch to a two-story of the same size, you will definitely save up to 20% on set-up and construction expenses.
To find out more about The Sage I and other two-story modular home floor plans, contact Tidewater Custom Modular Homes.