The Poplar Craftsman Cottage Style Modular Home for The Modern Family – Smithfield, VA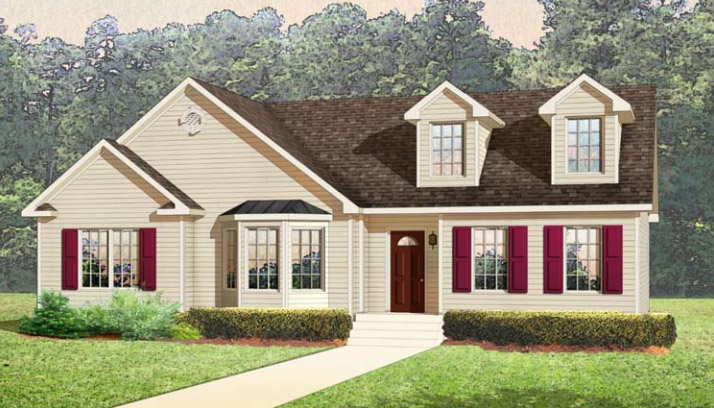 Today's technology has allowed even the home construction process to improve and be more efficient and economical while still maintaining high quality. It has also allowed for more advanced and innovative designs. One of these improvements has been in modular home construction, a type of off-site construction where homes are constructed in controlled environments and assembled by the builder on the permanent site. Modular home construction still allows designers to create any style home and provides vast possibilities in creating floor plans. For instance, the Craftsman Cottage modular floor plan features simple and natural elements. Its identifying characteristic are the open porches and low-pitched roofs, usually with overhanging beams and rafters.
Modular home construction in Smithfield, VA can also create many other home variations including traditional two-story homes, ranch style homes, Cape Code, vacation homes, large estate homes, timberland, and the craftsman cottage. This large selection of modular floor plans allows home owners to work with contractors and designers to make their dream home a reality. And with modular construction, new interior design methods can be used to make your home unique.
One of the most popular modular homes with the benefit of contemporary craftsmanship of modular construction is the The Poplar Craftsman Cottage style modular home. Just like its classic bungalow style variant, this modular home features a cozy 1,207 square feet living area with three bedrooms and two baths. With a modest covered front porch that welcomes residents and guests it also has a 14'0"-12'-5" living room. The highlight of The Poplar floor plan is its magnificent kitchen and dining room which is 18'-1" x 12'-5". A utility room has been added as well. To complete the design of this home are the bedrooms and baths. The largest bedroom (12'-9" x 12'-5") has a master bathroom. The two other bedrooms (9'-11" X 10'-1" and 11'-0" x 12'-15") the one of the other two bathrooms.
To find out more about the features of The Poplar Craftsman Cottage style modular home, contact Tidewater Custom Modular Homes.