The Pine Cliff Ranch Ranch Style Modular Home – Perfect for Homeowners who Live with Small Children and Senior Citizens – Williamsburg, VA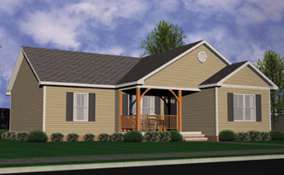 Ranch style modular homes in Williamsburg, VA are known for their single story floor plans that fit perfectly for first-time homeowners who have small children or persons with mobility issues just like senior citizens because there is no stairs to climb. Because of the simplicity of their floor plans with areas that are easy to clean and maintain, modular ranches are also perfect for anyone who wants to save on maintenance and utilities. It is okay if you only have a single-story home because you can simply extend that to the outdoors by simply adding a large deck, a beautiful sunroom, or a porch just like what you can see in The Pine Cliff. But that is not all you are getting with this modular floor plan.
The Pine Cliff ranch style modular home has 3 bedrooms and 2 bathrooms. In its 1,547 sq. ft. lot, you will have an owner bedroom, the largest among the three, with a dedicated owner bathroom. The two relatively smaller bedrooms share a bathroom that is adjacent to the kitchen and is easily accessed even by those persons coming from the living room. The kitchen and dining space has a raised eating bar and it opens to the living room that separates the owner bedroom from the two smaller ones. And if you ever need to make changes down the road, having a flexible modular floor plan like The Pine Cliff will make that an easy and affordable home remodeling project for you.
To find out more about how to customize a ranch style modular floor plan, contact Tidewater Custom Modular Homes.