The Perfect View From a Modular Waterfront Home Will Captivate Homeowners In No Time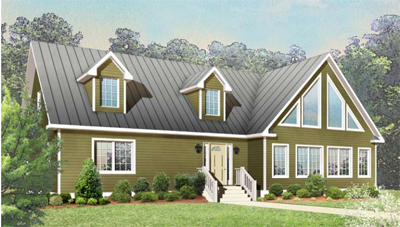 Scenic lakes and coastal areas are ideal for vacation-style homes. Most of these areas however are remote, raising concerns of logistical difficulty, high construction costs and longer completion time among homebuyers. Modular construction in Hampton Roads, VA offers a straight-away solution for that lovely lake or beach house homebuyers are dreaming about.
The Southport Vacation style Modular Floor Plan will surely captivate homebuyers with its alluring front elevation, high vaulted ceiling and glass walls. The open great room provides a panoramic view of the waterfront and the skies, allowing natural light to be diffused throughout the room ideal for gatherings and relaxation. The master suite on the other hand provide homeowners a peaceful retreat. There are 2 additional rooms upstairs for children and guests.
Simplicity and leisure of this Southport modular floor plan will be at the helm of homebuyers in no in time using modular construction methods. Modular construction saves the logistics and construction costs by ordering in bulk prefabricated modules from a quality controlled factory and then assembled on site. Instead of partial periodic purchase of materials inherent in the traditional method, modular construction involves standard yet customizable and speedy fitting together of modular sections reducing completion time to almost half.
Truly the dream vacation house is no longer a just pint of imagination. Modular construction enables fast, affordable and quality vacation style homes a reality. For more of custom-built modular homes, contact Tidewater Custom Modular Homes.