The Oyster Cove – A Traditional Two-Story Modular Floor Plan that Makes A Well-Designed and High-Quality Get-away Resort – Williamsburg, VA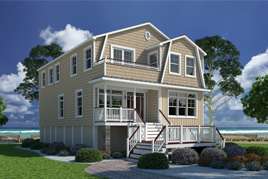 The advantages of modular home construction does not end at the ground floor as it is also an ideal solution if you want to build a two-story home. With in-factory construction, the process will not be delayed due to a bad weather, lack of tools, stolen, or vandalized building materials. So you will have a newly-built and well-designed two-story modular home in no time.
The traditional two-story modular home floor plans in Williamsburg, VA let you maximize the living area thereby allowing you to have the best value of your money. When building traditional two-story floor plans using modern modular construction technology, you will benefit from a host of plusses that you do not usually get with traditional site-built construction. The available two-story modular floor plans are so flexible that they can be used not only for residential houses but also for home offices and creative get-away resort just like the Oyster Cove.
The The Oyster Cove traditional two-story modular floor plan has a total of 2,692 sq. ft. that provides a spacious and stylish living space. It contains 4 bedrooms, 1 downstairs and 3 upstairs. The kitchen space is wide and extends to the dining room and living room. This two-story floor plan also includes a porch but there are actually a wide array of other design options to choose from to ensure that your home's exterior also has a character as it has in its interior.
Regardless of where you build, you can custom-build a two-story modular home that is of highest quality. To find out about other available modular floor plans, contact Tidewater Custom Modular Homes.