The Madisonville Traditional Two-Story Modular Floor Plan: Smart and Brilliant Home Style for Large Families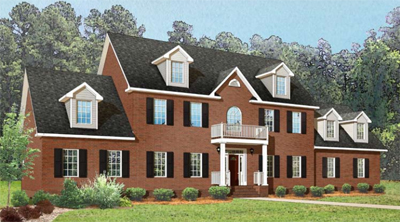 Searching for a perfect house for a large or growing family requires attention to the specific needs of every family member. Your newborn can't share a room with older siblings since they have different sleeping times; your teen, on the other hand, would love to have his/her own room. Thus, a traditional two-story modular floor plan with 5 bedrooms can be the best solution to meet the demands of a large family.
The Madisonville, a traditional two-story modular home offers boundless options for designs that complement the purpose of each room. The bedroom on the first floor is suitable for older kids or for aging parents. Toddler or school-age kids can take the room near the bathroom upstairs. The bedroom with walk-in closet that is smartly placed between a bedroom and a bathroom can serve as a nursery. And of course, the master suite can be near the baby's room so parent's can easily check in. Moreover, the Madisonville also has spacious dining and family rooms where the whole family can gather.
The Madisonville traditional two-story style modular floor plan has the brilliant layout that can accommodate the needs of every household member. Not to mention, it is built with modular home construction so you can move into your dream house in no time. For more details about this modular floor plan, contact Tidewater Custom Modular Homes.