The Lincoln Ranch Style Floor Plan Features A Perfectly Zoned Living Space – New Kent, VA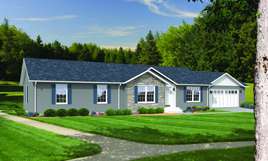 Included in the advantages of modular home construction is its capacity to provide interested homeowners to own and occupy their dream ranch at the fraction of the total building cost and time of completion of traditionally built ranches.
The Lincoln ranch style floor plan features a perfectly zoned living space. Its 1,658 sq. ft. floor area has already 3 bedrooms and 2 bathrooms in it. The owner bedroom comes with a dedicated bathroom and is the largest among the three. The 2 relatively smaller bedrooms are situated to the opposite wing of the ranch. These two share a bathroom that can also be easily accessed by people coming from the den that can serve as a home office, study room, or hobby space, depending on the needs of your family.
What separates the owner bedroom and the two smaller bedrooms of the The Lincoln ranch style modular home in New Kent, VA are the kitchen space and living room. They are intentionally placed at the center of the modular home so that whether you come from the left or right wing, it will be more convenient for you to go the fully furnished kitchen space or living room.
To find out more about The Lincoln and other ranch style modular home floor plans, contact Tidewater Custom Modular Homes.