The Lenoir Two-Story Modular Home Is The Pinnacle Of Class And Compact Living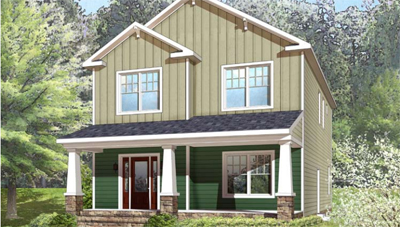 Two story houses appeal to many homebuyers for many reasons. With the same footprint as the one-story floor plan, a full two-story home can provide larger square footage of living space. In terms of efficiency, insulation is simpler as fewer rooms are exposed to exterior. Tidewater's Lenoir modular floor plan is tops of these space-optimized homes with a classy touch.
This compact modular home in Windsor, VA welcomes guests with a grand foyer that leads to a spacious living room, fine dining area, and kitchen. A french door lures visitors to a separate living area, the Den, where different splendor awaits. The bedroom areas including the master suite are contained on the second floor to separate them from busy household living. The optional brick porch completes the ornate mimicry of a traditional french villa.
Modular home construction has made this blend of style and function possible with cost-effective, quicker, and quality controlled methods. Great floor plans offer a wide variety of customization to correspond to every homebuyer's needs. Be it elegance or efficiency, modular homes have them all checked. For details on traditional two-story modular floor plans contact Tidewater Custom Modular Homes.