The Landmark Ranch Style Floor Plan – Proof of How Far Modular Home Construction has Gotten in Improving the Living Experience – Hampton Roads, VA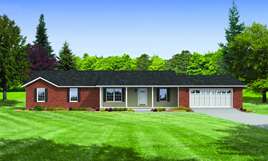 A ranch is an iconic architectural design that has both a glamorous past and a glamorous future. This single-family home is a prominent alternative to vertical houses since the 1930's. It stretches out horizontally with the main living area on one floor so you will not need to build a multiple floors upstairs. Because of its potentials, the modular home construction industry has introduced new and needed features to ranch home floor plans. This creates a unique single story home living experience, like what is offered in The Landmark Ranch style modular floor plan. It has a simple roofline and other exterior features common in ranch style homes. But once you get inside The Landmark, you will see how far modular home construction has gotten in improving the home living experience.
The Landmark Ranch style floor plan in Hampton Roads, VA has 3 bedrooms and 2 bathrooms that are strategically situated in the 1,658 square feet of living space so that there is plenty of room in the rest of the home. The first half of this single story modular home is comprised of the three bedrooms, with the master bedroom as the largest among them with an attached bathroom. The other bathroom is in an area of the home where it can be accessed by people who are enjoying the rest of the house where the kitchen, dining room, living room, other two bedrooms can be found. The Landmark Ranch also has a den located in the corner of the house which can also serve as a home office or study room.
To find out more about The Landmark Ranch style modular home and other modular floor plans, contact Tidewater Custom Modular Homes.