The Greenwood-HTC Ranch Style Modular Home is Jam-packed with Amazing Features – Smithfield, VA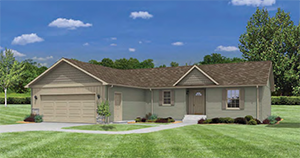 The ranch style modular homes in Smithfield, VA are noted for their single story home living experience. But despite their seemingly simple floor plan, they actually have a lot to offer to interested homebuyers particularly those people who are tight on a budget just like what you can enjoy having if you choose The Greenwood-HTC ranch.
If you have a small lot, The Greenwood-HTC ranch style modular home can be your best bet. Despite the size, this 1,547 sq.ft. ranch is already jam-packed with certain features that you would need for a home.
The Greenwood-HTC is actually a unique ranch style modular floor plan. When you open the front door, you will still be welcomed by a large living room but the dining area is the one adjacent to it. Unlike the usual arrangement where the living room is separated from the dining area and the kitchen which sit next to each other.
The owner bedroom, which is the biggest among the three, occupies the right wing together with its dedicated owner bathroom. The two relatively smaller bedrooms occupy the left wing and share a common bathroom which has a strategic location that allows for an easy access for people coming from the other parts of The Greenwood-HTC such as the kitchen.
To find out more about the advantages of modular home construction, contact Tidewater Custom Modular Homes.