The Graham - Cottage Style Modular Home that has Aesthetically Pleasing Exterior as It is on the Inside – Windsor, VA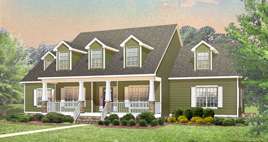 Modular home construction lets you choose a floor plan that is right for you. You can be confident that your dream home will not only be customized based on your personal preferences but also be constructed abiding with the state's standard building requirements.
Cottage modular homes in Windsor, VA are now considered one of the most popular selections of homes. They also have a reputation for reliability when you choose them when building your dream property. The cottage style series are a brand new line of modular homes that feature the same level of dedication in terms of energy efficiency, resource conservation, and property longevity. Among the available cottage modular floor plans, most homeowners get interested with The Graham.
The stately exterior of The Graham is aesthetically pleasing as much as it is on the inside. Upon entering through the front door, the sheer size of the first floor will welcome you. Everything is arranged so that the living room is left spacious and the rest of the parts of the home can be easily accessible. This open floor plan includes a formal dining area that is very appropriate for entertaining guests over great tasting food and beverage.
The Graham Cottage style modular home houses 3 bedrooms and 2.5 bathrooms strategically situated so that other areas of the house spaciously share the 2,339 sq. ft. of floor area. As you go inside entering the covered porch, you will see a foyer that opens to the great room, the dining area, and to the other parts of your home.
To find out more about how you can customize the Graham floor plan to your liking, contact Tidewater Custom Modular Homes.