The Dauphin Island II Vacation Style Modular Floor Plan Offers Options that Improves Home Living Experience – Suffolk, VA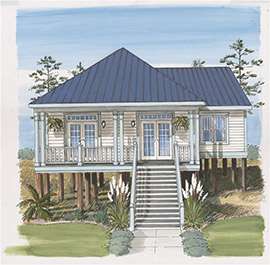 In the 1,585 sq. ft. of this Dauphin Island II vacation style floor plan, you can already enjoy having 3 bedrooms and 2 bathrooms. The indoor space of the Dauphin Island II is strategically designed so that the entire sapce becomes homey and comfortable like you are on vacation everyday. Put a house like this on a lot with a view of the James River or Nansemond River and you just may never need a vacation again!
The Dauphin Island II is a type of vacation style home in which all the bedrooms are all at one side of the house while the rest of the indoor space is dedicated to the living room, dining area, and kitchen space. The master bedroom has its own master bath that can only be accessed when you are inside the largest room in the house. The main bath on the other hand can be accessed by people coming from all the bedrooms as well as from the other wing of the house.
The Dauphin Island II is actually a raised vacation style modular home in Suffolk, VA. The floor of the house does not touch to the ground which makes it perfect for locations in flood plains. But if you live in a place where it does not really flood when it pours hard, you can still take advantage of this floor plan because it offers an optional basement. That is if you are willing to have your living room be reduced by 20' 7" and bedroom #2 by 10".
With the advanced building technologies of modular home construction along with a wide array of options for customization, you can have the Dauphin Island II be custom-built to your liking. You can also add other features such as furniture and fixtures to your vacation style home in order to maximize your home living experience.
To find out more about The Dauphin Island II vacation style modular floor plan, contact Tidewater Custom Modular Homes.