The Breezy Point – A Cape Cod Style Floor Plan that Makes Independent Living More Convenient and Comfortable – Richmond, VA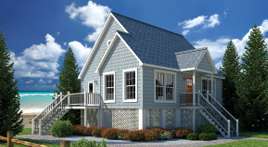 The modular home construction industry continues to expand its options and make them diverse in order to really cater to the specific needs and personal preferences of each interested buyer. Even if you are an individual who has just moved out of your parents' house and want to start a new life, there are floor plans that can be tailor-fitted to your liking , like The Breezy Point for example .
Starting one's independent living experience is made a lot more convenient and comfortable by The Breezy Point Cape Cod style floor plan. This 825 square feet floor plan houses a cushy bedroom which you can customize further to fit your lifestyle or busy work schedule. There is also a satisfying and spacious living room waiting to accommodate you after a long day at work. The living room provides an easy access not just to your bedroom but also to the kitchen, dining area, and the bathroom. You also have the option to build a second floor and have additional bedroom and bath room upstairs as well as a storage room for your other stuff.
After having declared financial independence from your parents, they will be proud of you if they see you living in The Breezy Point Cape Cod modular home in Williamsburg, VA and being able to have it put up within just a few weeks, not months. And if you have a lot of money to spare, you can also have one built for them where they could spend the rest of their lives together under one roof that is styled to perfection.
Aside from The Breezy Point Cape Cod style home, there other modular floor plans you can get inspiration from. For more details, contact the Tidewater Custom Modular Homes.