The Bluffton III Modular Floor Plan is the Southern Vacation Home for You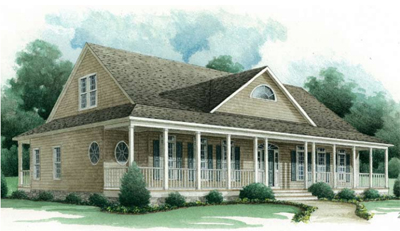 A lot of families want to investing in building a vacation home. Owning a vacation style modular home in Smithfield, VA provides a vacation atmosphere every day.
If Southern charm is your style, then the Bluffton III is the vacation style modular floor plan that is perfect for your dream vacation home. The exterior of the Bluffton III screams southern charm with its textured walls and muted color scheme. Boasting 2,517 square feet with 3 bedrooms and 2.5 bathrooms, this two story III modular home stays true to the southern style of spacious living in a grandiose manner.
The components of the Bluffton III vacation style modular home are also strategically arranged to suit and soothe. With the streamlined modular home construction process, the master bedroom, living room, breakfast nook, and kitchen areas are all positioned at the rear of the house surrounded by large glass windows to give you the a picturesque view. Additionally, this modular home has an open foyer and stair balcony, providing family members other open areas to appreciate and enjoy the natural beauty surrounding their home.
To find out more about the Bluffton III vacation style modular floor plan, contact Tidewater Custom Modular Homes.