The Berkshire II Craftsman Cottage Style Modular Home has Interior that is as Pleasing as Its Exterior – Smithfield, VA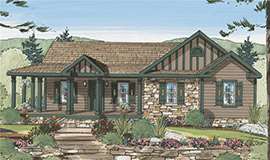 Craftsman Cottage style modular floor plans are known for their attention to the Arts and Crafts aesthetics. Their designs and color schemes favor clean lines and natural tones just like what you can see in The Berkshire II floor plan, which actually belongs to the Lake and Lodge Collection.
In the 1,776 sq. ft. floor plan of The Berkshire II Craftsman Cottage style modular home, you can have 3 bedrooms and 2 bathrooms. The two smaller bedrooms sit next to each other and both are facing the master bedroom. When you enter to the master suite, you will then gain access to the master bath that has bath tab, toilet bowl, and vanity faucets. On the other hand, the main bathroom can be accessed not only by people coming from the three bedrooms but also by people coming from the dining area, kitchen, and living room which by the way are located at the left wing of The Berkshire II.
The modular home construction in Smithfield, VA ensures that The Berkshire II and other Craftsman Cottage style modular homes have an indoor space that is as pleasing as their exterior. That is why in The Berkshire II, you can see that there is a part of the living room that is dedicated to an optional fireplace and other features that can be added or modified to fit the lifestyle of the homeowners. There is also a half wall separating the living room from the dining area just like what the raised bar does for the kitchen.
To find out more about other Craftsman Cottage style modular home, contact Tidewater Custom Modular Homes.