The Bayboro – A Vacation Style Modular Home Floor Plan that is as Functional as It is Beautiful – Williamsburg, VA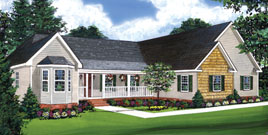 Modular home construction has never failed to amaze every interested home buyer. It has maintained high standards in custom-building homes. In fact, with the use of cutting edge technology in state of the art building facilities, you can now own a vacation style modular home based on your personal needs and other specific requirements.
Vacation style modular homes in Williamsburg, VA have an excellent reputation of providing their home owners a safe and fun place to vacation in. With modular home construction, it is guaranteed that your vacation home and the materials used to construct it will be stored indoors in a climate controlled environment during the whole duration of the building process. In no time, you will have a home that is not only a family-friendly living space but is also a perfect place that will make you feel like you are on vacation every day.
If you are planning to build something that will serve as a weekend getaway home or a daily primary residence, you can get inspiration from The Bayboro Vacation style floor plan. It is undeniably functional as it is beautiful. The Bayboro has 1,997 square feet living space that has three bedrooms and two baths. Apart from that, you will have a cathedral living room where you can see the great view of the outdoors.
For more details about vacation style homes and other modular floor plans, contact the Tidewater Custom Modular Homes.