The Abilene Ranch Style Modular Home – Turning a Simple Design into Something that Really Suits Your Specific Needs and Preferences – Richmond, VA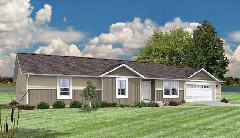 Ranch style modular home in Richmond, VA may be just a single story but the floor plans available for this style will let you turn a simple design into something that really suits your specific needs and preferences. There are actually several variations available. Each will be discussed adequately for you in order to help you identify a particular floor plan that is closest to the dream home you have imagined long before.
Among the available ranch style modular homes, you may be drawn to The Abilene and don't blame you. The base house is beautiful but you can also find more ideas from the design gallery in order to add or modify certain features and fixtures of this floor plan. In fact, there are a wide array of options for customization so you can really enhance the aesthetic value and maximize the functions of this ranch style home that has a total floor area of 1,547 square feet.
The Abilene ranch style modular home can house a master bedroom and a relatively large bathroom adjacent to it. Another bathroom is strategically located in between the 2 smaller bedrooms. The kitchen space sits next to the owner bedroom and opens to a small pantry and dining room. The remaining part of the lot is intended for a large living room which has full access to the other areas of the house including the utility room.
Determining the style of your house can help you develop a successful plan. Being part of the planning will also gain you a greater appreciation of the way your house was custom-built. To find out more about your options, contact the experts of Tidewater Custom Modular Homes.