The Abigail Ranch Style Modular Home Comes with Architectural Designs that Adapt to Any Style of Living – Hampton Roads, VA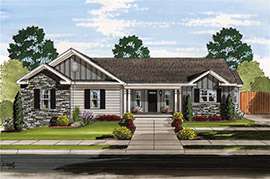 The beauty of a ranch style modular home in Hampton Roads, VA is that it is able to adapt to any style of living. Although the unique American architectural design of this single story home can be traced back to 1964 or earlier, the ranch continues to improve on its exterior and interior designs by having amazing features that many homeowners would love to have in a home, just like what you can see in The Abigail ranch.
If you are a large family who has been dying to have a ranch with 3 bedrooms and 2 bathrooms, then The Abigail ranch style floor plan can be your best bet. In this 1,822 sq. ft. floor plan, you can already have a master suite that not only has its dedicated bathroom, also known as the master bath, but also have an optional basement in which a water heater can also be installed.
Modular home construction makes sure that each home is able to enhance the home living experience of each owner and it can be felt as well in The Abigail. Aside from the spacious living room that connects the 3 bedrooms to the kitchen and dining area, you can also have a proposed garage just beside the utility room. The exterior of The Abigail ranch is also being highlighted by the porch that is connected to the foyer that opens to the living room. You can actually modify certain features in this floor plan so that it will really fit your lifestyle and your family's.
To find out more about The Abigail ranch style floor plan, contact Tidewater Custom Modular Homes.